Disgruntled Kenyans have been making noise about there being nothing to celebrate about this Jamhuri Day. In fact blogger Robert Alai had asked President Uhuru Kenyatta to cancel the celebration and save the money for other projects.
But as you make noise about your sorry life, A Kajiado man has stunned Kenyans after marrying two women in a grand white wedding ceremony that took place in Kisaju.
The man identified from the wedding invite as Junior Mako while his two brides are only identified as Liz and Joyce. The groom was dressed in a blue suit held his two brides  dressed in white gowns embellished in Masai decorations are seen kneeling side by side as they are prayed for.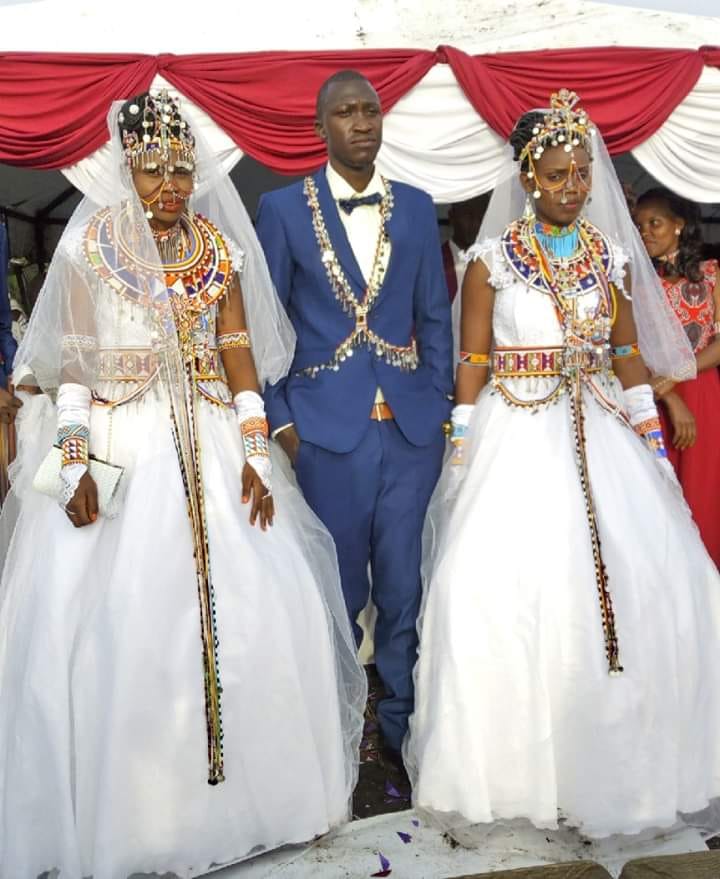 The three newly weds looked jovial as the danced and made made merry to celebrate their unusual union. As usual, the pictures elicited different reactions on social media.
I am not christian but I'm of the opinion this union is both unchristian and illegal as polygamy is only allowed under Islamic and traditional unions. That a pastor even agreed to bless the union beats me

— Tish (@Mutisya_Tish) December 12, 2018
They all look really happy. Clearly. ?

— Anita Le (@Anita04874517) December 12, 2018
Some men live the dream

— Momanyimogeni (@momanyimogeni) December 12, 2018
Well, with this tough economic time's, it takes courage to marry two wives. We hope their marriage will be as colorful as the wedding.