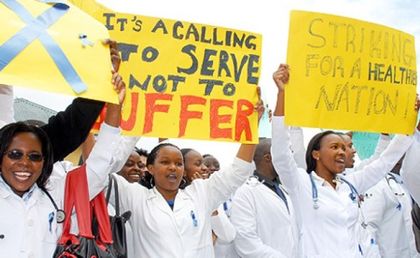 In Kenya, it's always teachers, doctors, students, matatus who constantly seem to be on strike every so often. However this time, the nurses are doing it a bit differently. The Kenya National Union of Nurses (KNUN) have today postponed the a nurses strike that was set to begin tomorrow Monday, December 10 to next year.
Nurses and doctors' strikes have got to be the worst because those in need of urgent medical treatment are the ones left to bear the pain of the disagreement between the salaries commission and the medical practitioners. Many have argued that medicine is a passion and calling therefore those in the practice should never abandon their tools despite the issues they face.
Do you think striking is the only way to solve issues facing various institutions in Kenya?
KNUN Secretary-General Seth Panyako says the union resolved to suspend the strike until February 5, 2019 to give the Salaries and Remuneration Commission (SRC) more time to implement the collective bargaining agreement (CBA) signed with the government.
In November, nurses issued a notice to the Health Cabinet Secretary Sicily Kariuki, governors and the Salaries Remuneration Commission threatening down their tools from December 10 until an agreement that was reached after a five-month strike last year is implemented to the full.
"You will recall that we have made several attempts by way of correspondences to your offices including requesting a meeting to discuss and ensure the same is implemented, but to this date nothing tangible has been forthcoming," said Mr. Seth Panyako in the strike notice.
The nurses union has also called for the disbandment of the National Hospital Insurance Fund (NHIF) over claims of massive corruption at the State insurer.
Suspended NHIF Chief Executive Officer Geoffrey Mwangi and Chief Finance Director Wilbert Kurgat have since been charged with failing to comply with a court order requiring them to produce any documents required by investigators who are probing alleged misappropriation of funds at the corporation.
On Friday, 21 suspects were arrested over allegations that Ksh. 1 billion was lost through the Jambo Pay service at the NHIF.