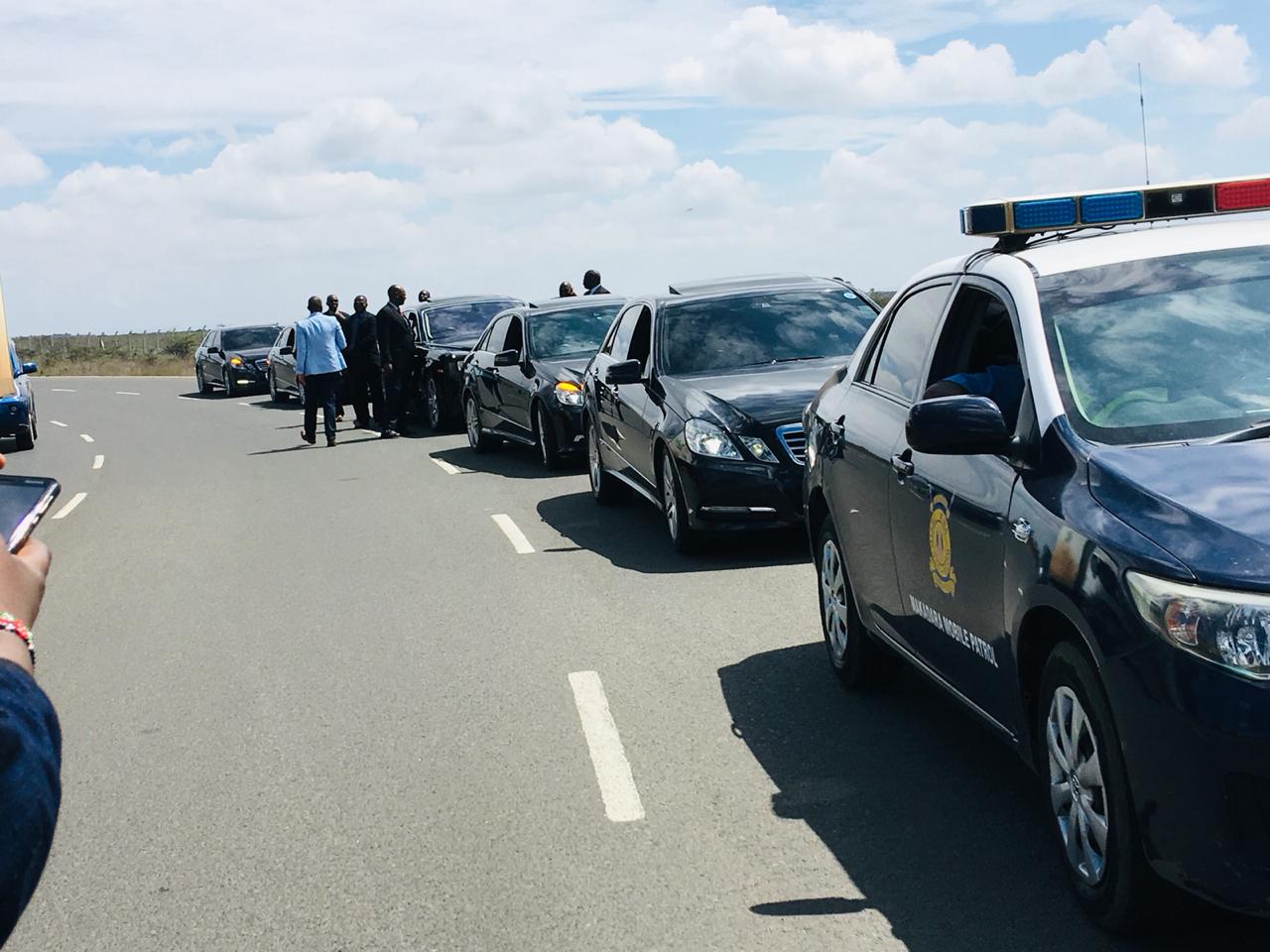 When the Kenya President travels, the Presidential state car—currently a Mercedes-Benz Pullman S600—and other heavy equipment is transported by Military to ensure heavy security to safeguard the president . Roads are also cleared to ensure the president is not delayed.
However one mysterious guest said to be arriving from south Africa has received an inch of the security detail.
Media max  on Friday posted videos and photos of a mysterious guest arriving in Nairobi from the Jommo Kenyatta International Airport and Kenyans online had something to say as usual.
In the photos posted via the K24 Twitter handle, the mysterious VIP is been escorted with heavy security presence from hired bodyguards in a convoy with police leading.
This is the Jay Z and Beyonce Convoy from JKIA. They are Currently at Kempinski Hotel. They are the VIP Surprise Guests at K24 at 9 pm. #MysteriousVIP pic.twitter.com/04JiJRc47f

— BRAVIN™ (@ItsBravin) December 7, 2018
#MysteriousVIP convoy from JKIA, you don't wanna miss the reveal tonight tweeps! pic.twitter.com/EeMSrSAHQs

— K24 TV (@K24Tv) December 7, 2018
#MysteriousVIP at @VillaRosaKempin.
Tonight it's going down on @K24Tv pic.twitter.com/UzihW3N9oh

— K24 TV (@K24Tv) December 7, 2018
Kenyans on Twitter took to the comment section of the post with their opinions; with most making fun of the tag.
Its confirmed #MysteriousVIP
ni githeri man, welcoming him back from rehab. pic.twitter.com/sLyyueu5j4

— Karinga Kioi (@karingakioi) December 7, 2018
Me receiving news of #MysteriousVIP @K24Tv pic.twitter.com/gsimWp7wXR

— Mr Realistic (@briankeney) December 7, 2018
The pair Jay Z  and Beyonce were at a charity concert in Johannesburg, South Africa honoring Nelson Mandela, a century after he was born.
Beyonce led a crowd of friends in serenading the rapper with the familiar 'happy birthday' song in a new video a pal posted to Instagram.