Is Mike sonko suitable to serve as Nairobi governor?
Nairobi Governor Mike Mbuvi Sonko is facing a suit that seeks to oust him over alleged gross misconduct.City lawyer Boniface Nyamu filed the petition yesterday seeking to have the court declare the governor unfit to hold any public office and, therefore, pave way for fresh gubernatorial election in the county.
It funny how people are complaining about Sonko as if there wasn't other candidates on the ballot I mean let's be serious…you can't make populist choices and not want populist consequences please stop it.

It's just year one brace yourselves

— Scheaffer Okore (@scheafferoo) December 5, 2018
In response , the High Court has on Thursday certified the matter as urgent and Justice Wilfrida Okwany directed the petitioner Boniface Nyamu to serve Mr Sonko with the suit papers.
Mr Nyamu wants the High Court to declare Mr Sonko unfit to hold public office.
The case was filed a day after Mr Sonko allowed public service vehicles back into the city centre in wake of ban that caused more chaos, confusion and congestion, the very thing his policy was intended to end.
He also claims that Mr Sonko engaged in acts of gross misconduct, citing the tree-planting drive at Moi Forces Academy where the governor allegedly demeaned the Environment Cabinet Secretary Keriako Tobiko in the presence of President Uhuru Kenyatta.
Environment Cabinet secretary Keriako Tobiko challenged Governor Mike Sonko to 'wake up', saying the city risked losing its reputation because of uncollected garbage. "It would be shameful for the capital city to be known for plastic bottles and uncollected garbage
Gvn Sonko should apologize to Mr Timothy Muriuki for sending goons to beat him up. He must also avail information to the police regarding the whereabouts of those criminals. Also, an investigation be opened to look into his association with criminal gangs in Nairobi.

— #TeamMwalimuDida (@mwalimu_dida) April 30, 2018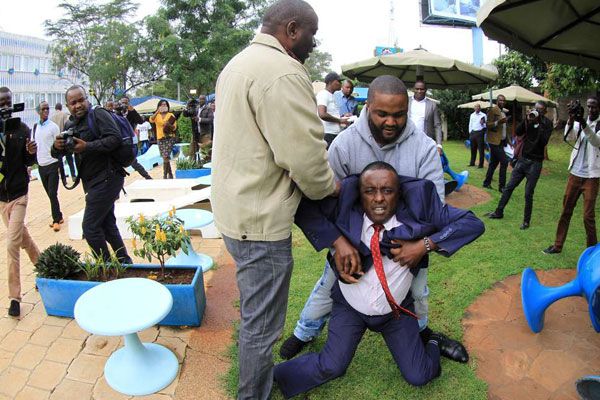 Further, he cites an incident in which goons who harassed former Nairobi Business Community Chairman Timothy Muriuki allegedly admitted that the governor had sent them.
Five men accused of assaulting and robbing a Nairobi businessman Timothy Muriuki included Mr Dishon Mulinge, Mr Ronald Otieno, Mr Michael Mbanya Wathigo, Mr Hussein Suleiman and Mr Brayan Shem Owino .