You've got to love the friendship between former President George H.W Bush and the former First Lady of the United States, Michelle Obama. The two have often exhibited warmth and goofiness even in the most serious situations.
As former President George W. Bush walked in and greeted President Trump, Melania and Barack Obama at the funeral service of his father, George H.W. Bush, Bush was spotted in a video spotted handing the former First Lady Michelle Obama a small item which left the Obama's laughing.
George W. Bush passed something to Michelle Obama, just like at John McCain's funeral https://t.co/smROoYpe0c pic.twitter.com/3UgOQT1sab

— CNN Politics (@CNNPolitics) December 5, 2018
We're not exactly sure what was exchanged — perhaps a piece of candy or a cough drop — but the moment was reminiscent of one they shared at the late Sen. John McCain's funeral earlier this year. Their smiles suggest the Obamas appeared to recognize the nod.
During John McCain's funeral service in September, Bush was yet again spotted handing a cough drop to the former first lady, who softly thanked him.
"President Bush is my partner in crime at every major thing where all the formers gather. So we're together all the time, and I love him to death. He's a wonderful man. He's a funny man," Mrs. Obama said.
The former first lady and the 43rd president are often photographed together during formal events. When Obama embraced Bush at the opening ceremony for the Smithsonian National Museum of African American History and Culture last September, the photo of their warm interaction went viral.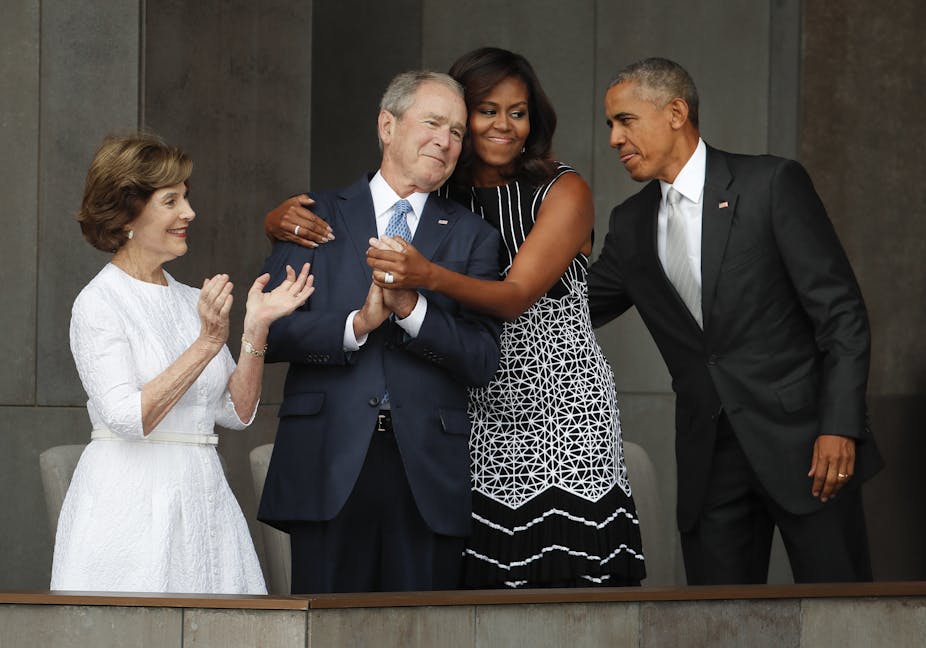 The friendship between the two which spans over eight years has attracted a lot of discussion especially around social media.
In an interview in 2017, Bush admitted that he has a genuine fondness for the former first lady.
"She kind of likes my sense of humor. Anybody who likes my sense of humor, I immediately like," says Bush.
Michelle Obama cut short her London tour of her new memoir, Becoming and other planned tours to Berlin and Paris to join her friend Bush and his family for the funeral of their late father George H.W. Bush.
What do you make of the friendship between the two?