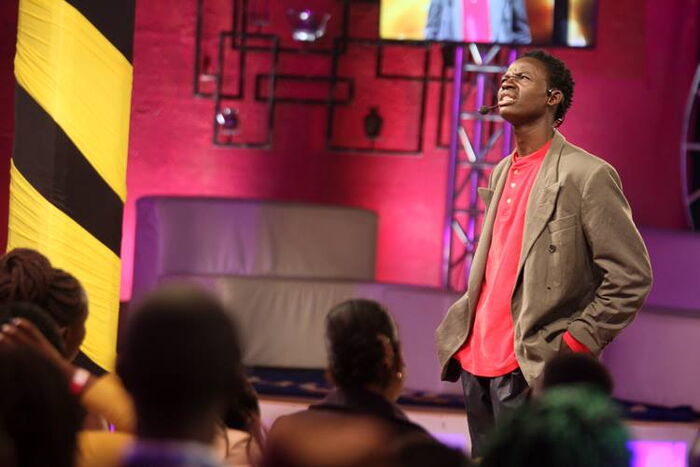 Paul Kimani Njoroge populary known as Comedian MCA Tricky has been sliding into Diamond baby mama's DM and when people slide into the DM we all know what that means.
But the unexpected happened as MCA Tricky just got blue ticked with no response from Zari. I thought MCA Tricky was wise enough to learn from Ringtone after he tried the same stunt on Zari to an extent of going a notch higher and buying him a car.
Well the Churchill Comedian sent a direct message (DM) to Zari's Instagram, which she literally ignored totally.
Not one to give up, MCA tricky took to her Instagram posts and left a comment asking why he has ignored him, so.
Here are the DM Messages to Zari from MCA Tricky
He asked, " Manze Zari mbona ulilenga DM yangu"
Seems like this one here caught the prettyu mama's attention, apparently she did respond finally
Zari explained why she did not respond to his swift DM slide.
Zari wrote: "I dont check DMs"
Anyhow, if y'all are as curious as I am about what was in the DM, MCA Tricky said, "I had a multi-billion worth potential project. Sawa naipelekea akothee (uchokozi reloaded)."
MCA tricky is tight with Akothee and they have been spotted together on several occasions.
In a recent Interview MCA Tricky further  explained as to why he urgently needed Zari's attention to a point where he has to DM her and post the comment.
Although, I have to wonder, why did he not just reach out to Zari's management?
MCA hinted that he was he was in business talks with Zari. "Zari ni Tourism ambassador wa Uganda, so in case nikitaka kuenda uko si naongea nae," he said.
Zari is is one of the successful socialites in East Africa, running a multibillion shiling empire she was entrusted to by her former husband Ivan Semwanga a Ugandan businessman who passed on in 2017
She was born Zarinah Hassan on 23 September 1980. She is of complex heritage; her maternal grandfather is of Indian descent. Her maternal grandmother is Ugandan. Her paternal grandmother hails from Burundi
She grew up in the city of Jinja, attending primary school in one of the local elementary schools. She attended Jinja Girls High School, where she attained a high school diploma. She then left for London in the United Kingdom, where she attended beauty school, graduating with a Diploma in Cosmetology.
What do you think of MCA Tricky's reason for DMing Zari does it sound genuine or was he pulling a Ringtone stunt?