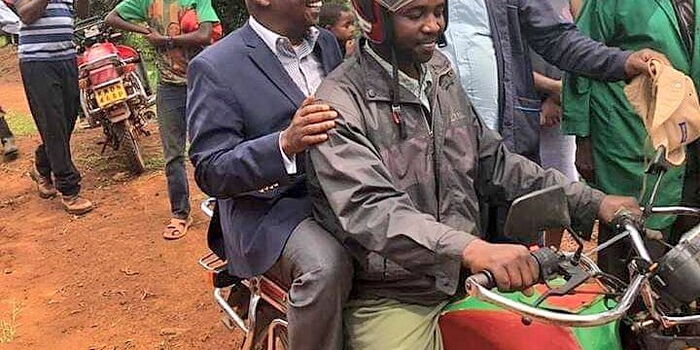 It is not easy to find a dynasty family member taking cheap common mwananchi's life, but on Saturday, Baringo Senator Gideon Moi shocked many.
Moi was spotted on a motorcycle making his way to Murang'a county where he attended a funeral service. Did you imagine that the son to the former President can do this? Is he looking for a massive political support from the region using a PR stunt?
Well, the Baringo Senator was attending the burial of Kasarani MP Mercy Gakuya's Father Mzee Washington Kamaku Mwangi.
Senator Gideon Moi on his way to a funeral service in Murang'a … Panda Shuka za kisiasa // courtesy @K24Tv @PeopleDailyKe @Milele_FM pic.twitter.com/5eYmYxE86d

— Eric Njoka Ledama (@eriknjoka) November 24, 2018
A section of netizens accused him of flouting traffic rules as he rode without a helmet or reflective jacket.
Some viewed it as a show of humility while others dismissed it as a PR opportunity to shake off the 'dynasty' tag he has been associated with ahead of the 2022 General Election.
Why is he not wearing a helmet? May be his head is too big to fit into the helmet.

The senator loves the law and he wouldn't violate such a simple traffic rule!

— Abdirizak (@solidarity007) November 24, 2018
Supporters of his rival Deputy President William Ruto have previously accused Moi of seeking to ride on his father's name to State House unlike Ruto who is touted as a self-made 'hustler'.
Gideon is trying to ape DP RUTO but DYNASTY is written all over his face. No oratorical skills, no charisma, no nothing and definitely not part of the hustler nation.

— Eh-e'coute Original (@MadagaskaIII) November 24, 2018
Ruto has on several occasions been pictured mingling with common folk at small restaurants and purchasing items from roadside vendors.
Do you think the two leaders from the rift Valley, who both eye for the topmost political seat come 2022, are just playing PR to win political support?