Was sany using jet fuel to demolish buildings or is it corruption to sabotage demolition?
Even as thousands of buildings, owned by powerful individuals are being targeted in the demolition exercise that kicked off on August and is expected to last for  months, Sany has not been at work since the demolition of Taj mall.
Why?
The team charged with demolishing illegal buildings now claims it is cash-strapped and cannot continue with the crackdown it started in August.
The multiagency unit hopes to resume next year if funds are made available. It was supervised by the Nairobi Regeneration Task Force. The operation targeted buildings on riparian land and road reserves. It stopped in September.
"You know, this exercise is very costly. There are some problems with the budget and that slowed it down," National Building Inspectorate secretary Moses Nyakiongora said .
The revelation comes amid public complaints that the operation collapsed because the team was not serious about going the whole hog to ensure proper management of public land.
Areas targeted included Nairobi River and its tributaries. The streams had been threatened by waste and encroachment.
The team spent Sh400,000 daily from August 6 to September 15. The cash covered fueling of two NYS excavators and a bulldozer, meals and allowances.
High-end buildings, including Air Gate Centre (Taj Mall) in Embakasi, South End Mall off Langata Road, Ukay Centre and part of Oshwal Centre in Westlands, were pulled down.
Walls of several residential apartments were demolished in Kileleshwa. More were to follow.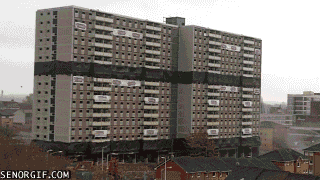 Nyakiongora said they are working on a budget to enable them to complete the operation. He also blamed several court orders and conflicting laws for hampering their work.Some property owners secured orders to stop demolition. Most of them have buildings along the Nairobi River.
"For example, Visa Oshwal went to court and the case is coming up for hearing in April next year. That is a very long time. If you have many of such issues, then you find yourself in a hard place," he told the Star in a telephone interview.
"The others are small private individuals — not big companies."
He said that they are currently carrying out a survey to ascertain the exact number of structures to be pulled down.
Nyakiongora declined to name the buildings that have so far been earmarked. But officer in charge of the demolition Julius Wanjau said some of the buildings targeted are Paramount Plaza and Kamaha Hotel in Ngara.
Nyakiongora said, "In Nairobi, the number of permanent structures we suspect is over 2,000. Across the county we have another 2,000."
They are harmonising laws and regulations to ensure a clear definition of riparian land. The Physical Planning Act describes the strip as extending 10 metres from the highest water point, but the Water Resources Act says it is between six and 30 metres.
In the latest incidence the Nairobi county government has earmarked a building in Kayole amid concerns that it is dangerously constructed
The price of jet fuel has continued to skyrocket over the last year, currently clocking in at a whopping 36.5 percent higher than at this time last year. But as far as we know the Sany tractor uses diesel fuel which can not be the reason for the exaggerated expenses.
Most developers took advantage of the conflicting legal provisions to encroach on such parcels.