This year has recorded the highest number of teen pregnancies at both primary and secondary level though not all cases are brought to limelight.
Magoha urged parents to be vigilant saying the council will never set supplementary exams for pregnant candidates.
"Let's take our responsibilities as parents and ensure teen pregnancies are not recorded at any cost since KNEC will not issue special exams for pregnant students, " he said.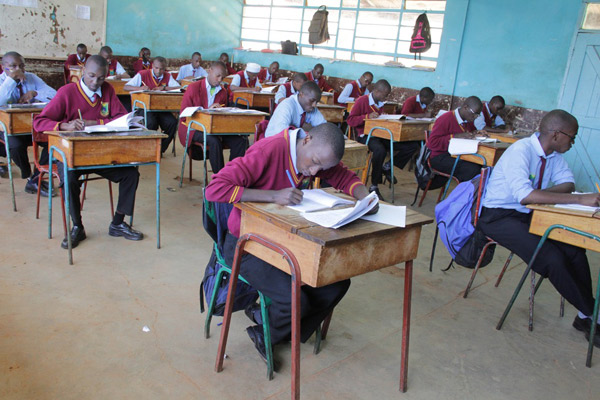 Education Cabinet Secretary Amina Mohammed, Kenya National Examination Council (KNEC) Chairman George Magoha, teachers and parents have expressed their concern over the menace.
In context,the Teachers Service Commission (TSC) has deregistered over 32 teachers with habits of preying on young school girls' forbidden fruits and others engaging in exam malpractices.
The commission's boss Nancy Macharia said deregistering the teachers alone was not enough and they would impose further punishment to the culprits.
Speaking during release of 2018 Kenya Certificate of Primary Education exam (KCPE) results today, November 19, at Star of the Sea Primary School in Mombasa County, Macharia warned private schools from employing those teachers saying it's a risk to the young girls.
"Last month alone, the TSC deregistered 32 head teachers and teachers over high number of teenage pregnancies that has been witnessed in the recent past," said Macharia.
"I urge school boards and managers to ensure they do not employ such people as they endanger the future of our children,"she told education stakeholders.
CS Amina Mohammed, who witnessed the opening of examination papers in Naivasha before visiting some schools in the town, including Naivasha Girls Secondary School, said more candidates are likely to be deregistered since security agencies are still scrutinizing some of the examination materials that they were caught with.
"And if we feel that the additional ones need to be deregistered, we will definitely do so," Ms Mohamed said.
In Nairobi, the Teachers Service Commission (TSC) Chief Executive Officer Nancy Macharia hit out at private schools for encouraging cheating. She said some had employed unregistered teachers, whom they were using to facilitate cheating.
She added that teachers involved in cheating will be punished, including being sacked. She asked supervisors to frisk the candidates thoroughly before allowing them into the exam rooms.