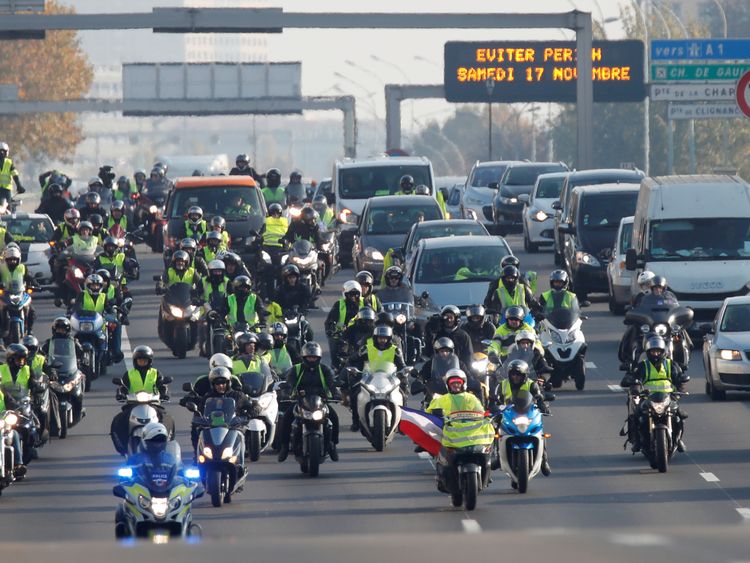 One protester has died and dozens were injured as almost a quarter of a million people took to the streets of France angry, at rising fuel prices.
The price of diesel, the most commonly used fuel in French cars, has risen by around 23% over the past 12 months to an average of €1.51 (£1.32; $1.71) per litre, its highest point since the early 2000s, AFP news agency reports.
The female protester who died was struck after a driver surrounded by demonstrators panicked and accelerated.
The "yellow vests", so-called after the high-visibility jackets they are required to carry in their cars, blocked motorways and roundabouts.
They accuse President Emmanuel Macron of abandoning "the little people".
Mr Macron has not so far commented on the protests, some of which have seen demonstrators call for him to resign.
But he admitted earlier in the week that he had not "really managed to reconcile the French people with their leaders".
Nonetheless, he accused his political opponents of hijacking the movement in order to block his reform programme.
Some 244,000 people took part in protests across France, the interior ministry said in its latest update.
It said 106 people were injured during the day, five seriously, with 52 people arrested.
Most of the protests have been taking place without incident although several of the injuries came when drivers tried to force their way through protesters.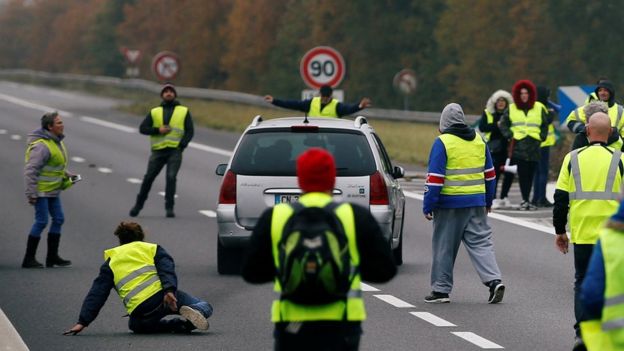 Chantal Mazet, 63, was killed in the south-eastern Savoy region when a driver who was taking her daughter to hospital panicked at being blocked by about 50 demonstrators, who were striking the roof of her vehicle, and drove into them.
The driver has been taken into police custody in a state of shock.
In Paris protesters approaching the Élysée Palace, the president's official residence, were repelled with tear gas.
World oil prices did rise before falling back again but the Macron government raised its hydrocarbon tax this year by 7.6 cents per litre on diesel and 3.9 cents on petrol, as part of a campaign for cleaner cars and fuel.