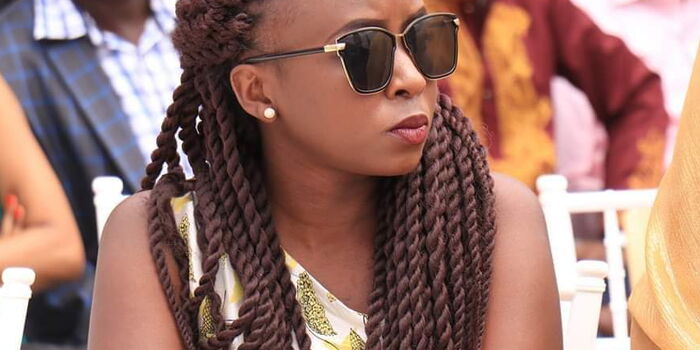 Jacky Maribe who has not been on the public eye stepped out for once to attend the wedding of Naisula Lesuuda and Kenyans couldn't help but notice that she was stunning. This made her quickly trend on social media.
Some KOT were shocked over the reasons that she was trending wondering why people are hooked on her.
Haezi sneeze bila kutrend

Jacque Maribe is trending for appearing in public. Itumbi won't rest. pic.twitter.com/is0qONmltB

— NaiBlogger (@naiblogger) November 17, 2018
Next trend, Jacque maribe spotted breathing

— Head girl (@bevalynekwambo) November 17, 2018
At this rate, Jacque maribe is gonna be an MP or women rape

— Dr. Koloni D. Koloni (@KoloniD) November 17, 2018
One in a hilarious video demonstrated how Kenyans won't give her breathing space
Jacque Maribe trying to get over everything but Kenyans? Why? ???? pic.twitter.com/YIbnAAshdS

— The African Spy (@ThisIsBett) November 17, 2018
There are those who took pity on Jowie because he is locked up while Maribe is slaying out there.
Citizen has began the cleaning for Jacque Maribe. She must trend for the next few weeks meanwhile her fellow accomplice Joseph Irungu has already been transferred to Kamiti Maximum prison.

The goose is cooked for that boychild.

— Michael Mburu (@MichaelMburu_) November 17, 2018
Another suggested that Lesuuda's weddding would not have been known publicly had Jacque not attended.
One might think Jacque Maribe Was The one wedding she seems to have taken the brides attention so if jacque didn't attend the wedding most of us would have not known Hon. Naisula Lesuuda had a wedding

— Gitau A?? (@gitau_A1) November 17, 2018
Itumbi was not left out in praising Maribe's stunning look at Lesuuda's wedding. He went as far as making her his facebook profile picture. One user has called him out saying he was bogus by focusing on Maribe too much and should also realize there are other serious issues affecting Kenya.
Itumbi is becoming to bogus by focus on Jacque Maribe too much i mean we have issues affecting this country more than stopping too low to give this slayqueen more attention. Its nonsensical

— #KOTLoyals™?? (@kemboijustinn) November 17, 2018
One user demonstrated her sympathy towards Jacky's trials revealing she is against the public trolling her.I will stand and love Maribe no matter what, she declared.
I refuse to troll Jacque Maribe. I refuse! This girl has a heart like everyone has, she's been broken, shamed, laughed at and mocked ! She is a daughter to someone, a sister to many, a friend who deserves to be loved back! I will stand and love Maribe no matter what!? pic.twitter.com/vEqcHYScpK

— The Messenger from Wakanda Kingdom (@Messenger254) November 17, 2018
This annoyed another user who came to the defence of Monica refuting any sympathy offered towards Jacky Maribe because she is a suspect in the murder. Am always for justice for Monica Kimani, she too i not deserve death,he stated.
A very baseless and reckless tweet in my opinion. I really don't understand where people get all this sympathy on such type of a murder suspect. I'm always for justice for Monica Kimani. She too did not deserve death.
Jacque Maribe https://t.co/rvdAQvdlWP

— Dzivula Mautuh Gube (@DzivulaGube) November 17, 2018
what do you think about the way Maribe is trending?