Controversial South Sudan tycoon Lawrence Lual Malong Yor Jnr is a man of large means and fat pockets, and he loudly tells it to anyone who cares to listen.
In an exclusive interview with Jeff Koinange aired on Sunday, Mr. Yor revealed that he was wearing designer shoes worth $10,000 (Ksh.1,000,000) and a Rolex watch worth $100,000 (Ksh.10,000,000).
The 'Young Tycoon,' as he likes to call himself, also stated that he is currently staying at the Presidential Suite of a top Nairobi hotel where he is paying $2,500 (Ksh.250,000) per night.
When questioned about the source of his immense wealth, Mr. Yor – seemingly cagey – said "I got my wealth from my Lord Jesus Christ."
"My Lord Jesus Christ blessed me; I fly on private jets… I live in Presidential suites… I am blessed," said the 30-year old.
Mr. Yor, who also said he has ambitions of being world famous, further dismissed allegations that he is the son or step son of former Chief of General Staff of the South Sudan Army, General Paul Malong.
"I am Lawrence Lual Malong Yor Jr, which means my father is Lual Malong Yor Snr. General Malong is not my father… we are not related," said Mr. Yor.
Paul Malong: The Chief of General Staff position is a post all over the world.

I did not profit from having held that position in South Sudan#SundayLive@KoinangeJeff
@VickyRubadiri pic.twitter.com/Gx15OuDWaR

— Citizen TV Kenya (@citizentvkenya) October 14, 2018
He further added that: "In our culture, in the Dinka culture, when you call someone somebody else's stepson you're abusing them."
A recent documentary by award-winning Kenyan investigative journalist John Allan Namu titled 'The Profiteers' painted General Paul Malong as among a few powerful people who gained immense wealth from South Sudan's civil war and stashed them in foreign banks.
The documentary also portrayed Mr. Yor as General Malong's son, a claim the two have now come out to refute.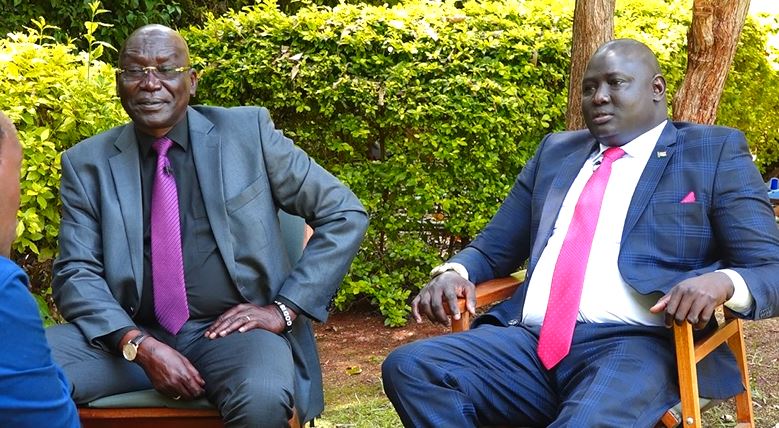 General Malong, who was sacked by South Sudan President Salva Kiir in May 2017, denied orchestrating the bloodbath in South Sudan which led to the displacement of over two million people in a span of slightly over two years, beginning 2013.
Mr. Yor, in turn, denied claims that he benefited from these alleged proceeds gained by General Malong' from the civil war.
Mr. Yor first came to public limelight when he posted a video of himself lying on a bed splattered with $1 million (Ksh.100 million) which he claimed was a donation to charity.
In the now viral video where Mr. Yor referred to himself as one of 'Africa's youngest billionaires', he also alleged to have previously donated $5 million (Ksh.500 million) to the Kenya Red Cross and the South Sudan Red Cross, adding that he had made other million-dollar donations to churches in Juba and Nairobi.
Gen. Paul Malong Awan has been the architect of immense human suffering in South Sudan. Malong was in charge of recruiting the Mathiang Anyoor militia that the African Union found to have committed mass killings in Juba in December 2013. pic.twitter.com/LJFFgC13Ak

— Kenya West© (@KinyanBoy) October 14, 2018
Red Cross Kenya, when contacted for comment, denied Mr Yor's allegations.
Noellah Musundi, public relations manager at the Kenya Red Cross told "Newsweek": "The claims in the video [by Mr. Yor] are not correct. We are following up on this false claim, which is misleading and malicious."
Just like its sister branch in Kenya, the South Sudan Red Cross also refuted Mr Yor's claim.
John Mayom, the head of communications at the South Sudan Red Cross told "Newsweek": "I am not aware of that donation, and I should be the first person to know about it."