jose Mourinho and Frank Lampard enjoyed huge success together at Chelsea but they will be in opposite dugouts when Manchester United face Derby in the Carabao Cup . From then to now, here's the story of their relationship.
The Chelsea glory years
Lampard credits Jose Mourinho for taking his career to the next level after he arrived at Chelsea from Porto in 2004. He was already a key figure for the side, of course, featuring in every one of their Premier League games in the previous season under Claudio Ranieri, but he hit new heights under Mourinho's stewardship.
Lampard was Chelsea's top scorer in the 2004/05 and 2005/06 title-winning seasons and clinched a host of individual accolades, too. In 2005, he won the PFA and FWA Footballer of the Year awards and came second in the Ballon d'Or voting behind Ronaldinho. He later credited Mourinho for instilling him with the self-belief he needed to get to that level.
He made me believe I was better than I was at the time," he said in 2013. "I thought I was a decent player, but he said to me 'listen, you can really get to the top' and he made me believe it. I tried to take it on and do it. Mourinho was the best, for me. He brought my confidence to a level it had never been."
The admiration was mutual – so much so that Mourinho tried to sign Lampard during his spells in charge of both Inter Milan and Real Madrid. "Everyone knows I was very close to joining Inter," Lampard said in 2010. "But the loss of my mother marked me, I didn't know what to do."
The reunion
In the end, Lampard and Mourinho had to wait until 2013 for their reunion. Chelsea had just come through a turbulent period under Rafael Benitez, and Lampard was delighted to welcome his old boss back to Stamford Bridge.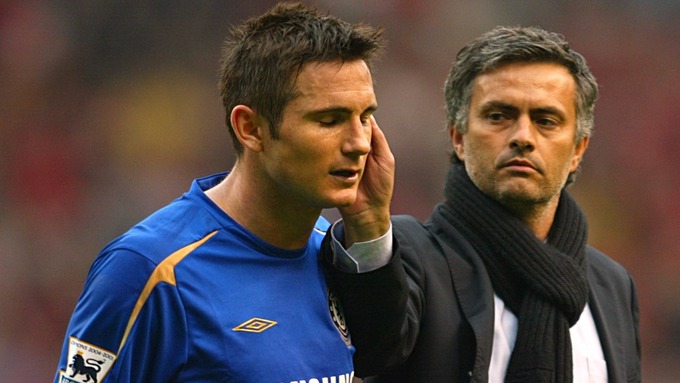 "It's good to have the manager back," he said. "He's demanding on the training ground, which is the best way to be. He's easy to talk to, off the pitch, lets you know what he wants. He can be light-hearted at times, can be hard when he needs to be – any player, whether you're young or old, enjoys playing under that.
There's a real freshness about the place at the minute, he's the same man. Obviously, he's a bit more experienced. He knows the club inside out, he knows some of the players already. He has been very good to work with some of the young players that we have got. I have seen the reaction of players in training already – we now need to show that on the pitch."
Lampard was in his prime during Mourinho's first spell at Chelsea but he had just turned 35 at the start of the 2013/14 season and this time it was down to Mourinho to convince him that he would no longer play every game.
Frank's intelligent, he's open and he has a very good relationship with me," Mourinho said that summer. "He knows that I'm very experienced and he knows what I did, for example, with Makelele here in the last two years he played. He knows I know how to do it with players of his age, because we have to be clever. Performance is how good you are, not your birth certificate."
Lampard went on to play a reduced role that season, scoring eight goals in 42 appearances in all competitions as Chelsea finished third in the Premier League and missed out on silverware in the cup competitions. It soon became clear that he would not be signing a new contract at Stamford Bridge, but Mourinho predicted he would one day return as the club's manager.
"It's not the end of Frank's career at Chelsea – it's just a little break," he said. "It's the end of his career as a Chelsea player, but he will be back for many, many years because he's one of the most important players in the club's history.