The long awaited demolition of Airgate mall, formerly Taj mall finally happened in spectacular fashion in the wee hours of Saturday morning.
King Sany, one of the most feared excavators in the country arrived at the scene at around 6 Am to do what it does best. Gates were locked to prevent the public from entering  the mall, there was heavy police presence at the site.
Last month, Rameshchandra Govind Gorasia dared the government to demolish his building insisting that he would stay put.
Demolition of the Taj Mall ongoing. @ntvkenya pic.twitter.com/BVHGnabEYV

— Watson Karuma (@watts2k) September 15, 2018
"I am saying this openly to any authority, I am not going to remove this structure, not even to my death! If they want to remove it, they come and do it themselves," an irate Gorasia said at the time.
"Whoever is ordering this demolition stop hiding, come out and face me, I am not scared of anything," he added.
Tenants at Taj Mall were then given two weeks to vacate the premises, a notice that lapsed on August 31. The mall stands on a road reserve and it is believed to have prevented the proper construction of Outering road.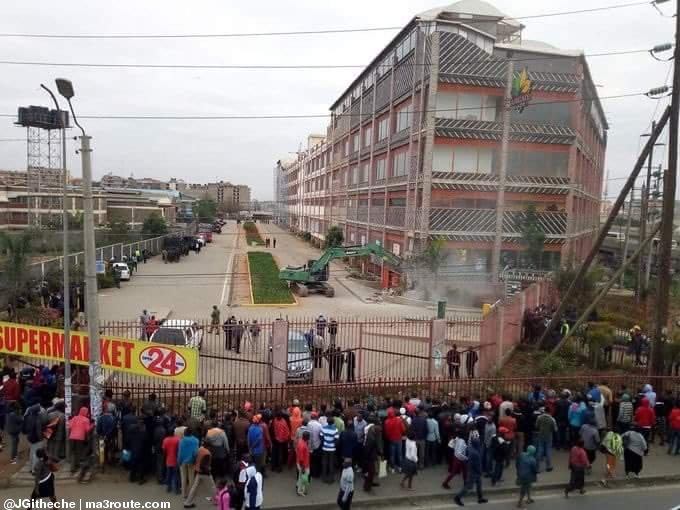 The Law Society of Kenya also waded into the issue asking the Government to release the list of all buildings scheduled for demolition. The State recently embarked on demolition of illegal buildings encroaching on public land.
Some of those that were brought down last month include South End Mall, Java House and Shell Petrol Station in Kileleshwa as well as a section of Oshwal Centre in Parklands.