Embakasi East MP Babu Owino has posted  a lengthy open letter posted on Facebook addressing President Uhuru Kenyatta about Economics.
Babu told Uhuru to support the amendment on the 2018 Finance Bill that was passed by Parliament last week that sought to suspend the implementation of the 16 per cent Value Added Tax on fuel products.
In the letter,  MP  Owino tells the president to consider the effect of the tax on the cost of living.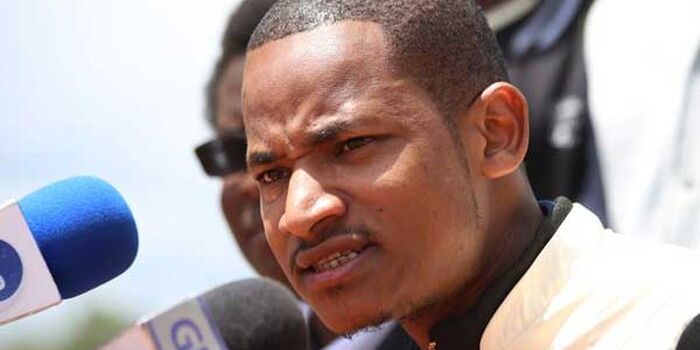 "I recall vividly that just over a month ago you made the prudent decision to suspend new projects until old projects are completed. While some circles were critical of this decision, as a young Parliamentarian, I welcomed it as a move that would instill discipline in the Executive arm of Government while ensuring tax payers' money is well spent and accounted for. I also felt that the country had already over extended itself in terms of large capital intensive projects and needed some time to offset existing debt before moving on to new initiatives," wrote Babu Owino.
He then highlighted the big projects that the state embarked on that has put the country in deep debt.
"I have since then followed the trajectory of the nation's financial management over the past few weeks with consternation. I note that during your visit to the US, it was made public that your government is borrowing the sum equivalent of 450 billion shillings for the construction of a six lane highway from Mombasa to Nairobi. I further note that in your visit to China, your government has taken on a further 380 billion shillings in debt for the construction of Phase 2A of the Standard Gauge Railway from Naivasha to Kisumu. This totals close to a TRILLION shillings in new debt in the span of ten days."
He added: "During this period, we have seen the Treasury Secretary, Henry Rotich, purport to implement an illegal tax on the people of Kenya no doubt to finance our growing debt obligations. I do not hesitate to call the tax illegal because Parliament voted to amend the Finance Bill and suspend the implementation of the proposed sixteen percent value added tax on fuel. Parliament is the supreme law making organ of the land as per the Constitution of Kenya 2010 and as such any attempt by the Executive to levy a tax not approved by the August House is both illegal and unconstitutional."
He finished by imploring President Kenyatta to intervene.
"I therefore write to you on behalf of the young people of our society struggling on a daily basis to make ends meet. I write to you on behalf of our mothers, stretching themselves to the limit, to ensure their families do not sleep hungry. I write to you on behalf of future generations, to whom we have a deep and solemn responsibility not to burden with a hopeless future. I write to you in regard of the untimely sixteen percent value added tax on fuel proposed by your Treasury Secretary."