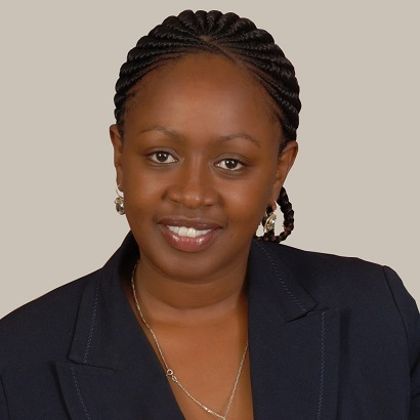 Born in 1972,  Murang'a Women Rep Sabina Chege is blessed with looks and brains. If we were to rank the most beautiful women representatives in the nation, Sabina will definitely emerge at the top. She was elected into the post for the first time in 2013 on a National Alliance (TNA) political party ticket.
Beautiful Murang'a Woman Rep Sabina Wanjiru Chege is being accused of husband snatching, an allegation that has been rubbished by the man's close family members.
The fair and comely lawmaker who emerged victorious
— for the second term— in the just-concluded General Election, is said to have won the heart of Gathitu Maina, the former Kenya Dairy Board boss.
But Maina's wife, Wanjiku, now fears that Sabina might take over all the family property.
She married Chege in an all-white wedding on September 7, 1996 at Our Lady Queen of Peace Catholic Church in South B, Nairobi.
However, a family source clarified that Sabina recently married the former dairy board boss in a traditional ceremony making her an 'official' wife.
In what is seen as a step to stake her claim, Sabina paraded Maina as her hubby when both appeared to pick her certificate from the Murang'a Returning Officer after she won the Woman Rep seat.
Sabina, who chaired the National Assembly Education Committee in the last Parliament, even told her supporters that Maina was her husband. The two have one child together, but the first family claims that Maina is spending more time with Sabina – a mother of three – a situation that worries them.
https://www.instagram.com/p/Bgi7wtvDF0e/?tagged=sabinachege
Before joining politics, Sabina, now 39, became a household name as an actress in the popular television drama series, Tausi, in which she played the role of Rehema before becoming a radio presenter with Coro FM.
Interestingly, before Sabina hooked up with Maina, she was linked to her first flame, Kikuyu Benga musician John De'Mathew (John Ndemethiu).
The maestro even serenaded her in his hit single, Njata Yakwa, now a popular mugithi song, in whose video Sabina appears, dancing and holding the musician, as he croons, "You are my star. My happiness is only with you."
Sabina is said to have met Maina in 2012 in the run up to the 2013 General Election when she was looking for a BMW car to buy.
But a close friend of the first wife told The Nairobian that there is more than meets the eye. "We are still shocked. Sabina initially wanted to buy a car and my husband's friend offered her a BMW which she agreed to pay for in instalments," said our source.
The source claims that Sabina could not clear the payments and when auctioneers came to repossess the car, she called a meeting to sort out the matter. "After the meeting, Maina became Sabina's lead campaigner and a close friend," said the source.
But Maina's family is defending Sabina, saying she is neither a husband snatcher nor secret lover. The source clarified that he attended the traditional wedding between Sabina and Maina in 2015.
https://www.instagram.com/p/Bgk6UwyDv8c/?tagged=sabinachege