Some Kenyans have told off Gatundu South MP Moses Kuria following his decision to share a photo he took with his children on Monday.
Kuria shared the photo with his children while at a IHOP Restaurant as Kenyans asked him how he feels sharing the photo well knowing that kids to former IEBC Information Communications Technology expert Chris Msando are orphaned.
In the photo, the outspoken MP is seen posing with the three children inside the restaurant.
Kuria was among leaders Kenyans pointed fingers at over his inflammatory remarks about the deceased IEBC official following his death which was confirmed on July 31st 2017 at the City Mortuary. Msando was tortured before being killed and his body dumped at the morgue.
Kenyans on social media went all savage telling off the honourable MP
Here are some of their reactions
Anne Kiruku Two things;
1. It is unwise, as a public figure and politician at such,who is hated and loved in equal measure to post photos of your kids in social media for public consumption.
2. It is kiddish to comment negatively and attack children because you despise their parent. Kids have nothing to do with his or her character, they are innocent.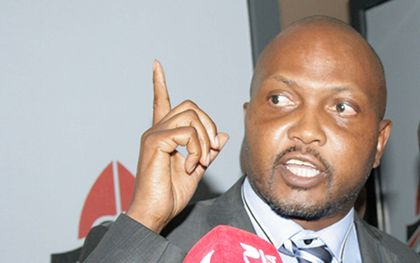 Tom Ochieng Okello Chris Msando's children are missing such kind of love. God bless Chris Msando's family.
Kinyua Kariuki If you have any evidence of the killers please deliver it to the concerned authorities.
Duke Blacky Kenyans are evil,the fact that moses kuria has his weaknesses does not give u room to haul insult to him,for the sake of the kids plz show some respect, political utterances and affiliations does not stand for ever,we have forgiven each other,connecting musando's death to kuria I think its wrong and misplaced, let God deal with the killers,only him (God) knows what happened, STOP this Forgive and let has love one another and forget the past,let God revenge,happy family hon.kuria
Erasi Githae Carlitoz Cyrus who killed msando?you mean its Kuria?sayh it well to the authority not in social media brother