Nairobi is one of the busiest cosmopolitan cities located at the Eastern part of Africa and is also the Capital of Kenya. Lately the city is emerging as one of the most sought destinations among tourists.
Here are some interesting facts about Nairobi, Read here
Beautiful Weather
Warm, sunny and bright days of summer and mild, cold yet soothing days of winter comprise the beautiful and delightful weather of Nairobi. Heavy raining from March to May and short intermittent drizzles from November to January are other important features of Nairobi.
Lakes & Sailing in Boats
Lake Naivasha, the second largest freshwater lake of Kenya, located at about 1.5 hrs drive in the outskirts of Nairobi is famous for boat trips and sailing activities. Tourists visit this lake and the bird sanctuary nearby to see different kinds of birds, and animals like colobus monkey, hippo, deer and giraffe grazing in the green meadows.
Business
Nairobi is rising up as an international business hub expanding in different sectors such as textiles, construction materials, processed food, beverages, wood industry etc. Renowned companies like coca cola, Cisco, General Electric and Google have set up their headquarters in Nairobi.
Wildlife Sightseeing
Nairobi National Park, The Kaura Forest, The Giraffe Center and the Bomas of Kenya entails tourists  to enjoy nature and wild life like forests, lush green vegetation and animals like cheetah, zebra, amid lions, buffalos and wildebeests as closely as possible in the open jeep.
Amusement Parks & Gardens
The Uhuru Park, rescued from destruction by the enormous efforts of the Nobel Prize Laureate, Wangari Maathai, is popular for holding rallies, public speech and services. Central Park close to Uhuru Park is recognized for having a memorial of the first Kenyan President, Jomo Kenyatta. Jeevanjee Gardens, 7 August Memorial Park and Nairobi Arboretum are the other spectacular open places in Nairobi.
Skyscrapers
The newly built skyscrapers, some of which even taller than 100 meters, showcase modernity and technological advancement of the city. Times towers (140 m), Teleposta Towers (120 m), Kenyatta International Conference Center (105 m), NSSF Building (103 m) and I&M Tower (100 m) are few notable skyscrapers in Nairobi.
Food
Meat is the most favorite dish of Kenyans and roasted red meat cooked on charcoal is their specialty. Several local restaurants, fast food junctions and local South African chains like Steers and Galito's serve delicious non-vegetarian food and several African delicacies.
Music
Over the last century, Nairobi has witnessed growth in different genres, forms and styles of music. It has introduced the world to Benga (the blend of jazz and Luo), Soukous and Mugithi genres. Hip-hop is widely popularized by the artists Nonini, Jua Cali, Nameless and Camp Mulla. The craze for other music forms such as Trance, House, Techno, Drum and Bass, Gospel and Dubstep shows Nairobians' love for music.
Kibera Slum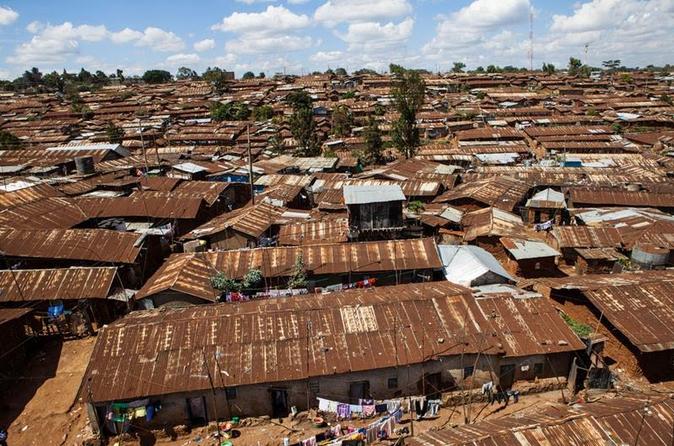 Though Nairobi has various amusing and fascinating sites, there is only one exception that represents a shame to its richness and pride and it is the Kibera Slum. This slum area has been the focus of study among several environmental analysts all over the world.  It is characterized by dirty locality, low income, poor standard of life, underprivileged children and women, squalor, illiteracy, and highest rates of rapes, AIDS HIV cases and crimes.
Transportation
Jomo Kenyatta International Airport situated at around 20 km east of the city serves as the primary transportation center for international journey. Apart from that, yellow cabs, railways, buses, trains, mini vans known as matatus, smart buses and private cars are easily available for public transportation.
Nairobi, the largest city of Kenya, is acknowledged worldwide for preserving the wildlife, enhancing tradition, art, music and culture, and acquiring vast progress in technology and business in a short period of time.