Original Queen of Soul Aretha Franklin is 'gravely ill' in Detroit. Radio host Tom Joyner, a close friend of Franklin's, announced this afternoon that the 18-time Grammy winner has been in hospice care for a week, according to The Detroit News. Sources close to Aretha – and a longtime friend – told TMZ he was informed a week ago, 'prepare yourself, she's dying.' The insider added to the publication that Aretha was down to 86 pounds and her health was failing and that they were told two weeks ago that everyone in the star's circle was told 'she could go any time.'
Another source close to the singer told TMZ she has been battling cancer. Family members confirmed the news on 13 August to WDIV-TV after a report from entertainment site Showbiz411 claimed Franklin, 76, was being surrounded by friends and family, who are asking for prayers.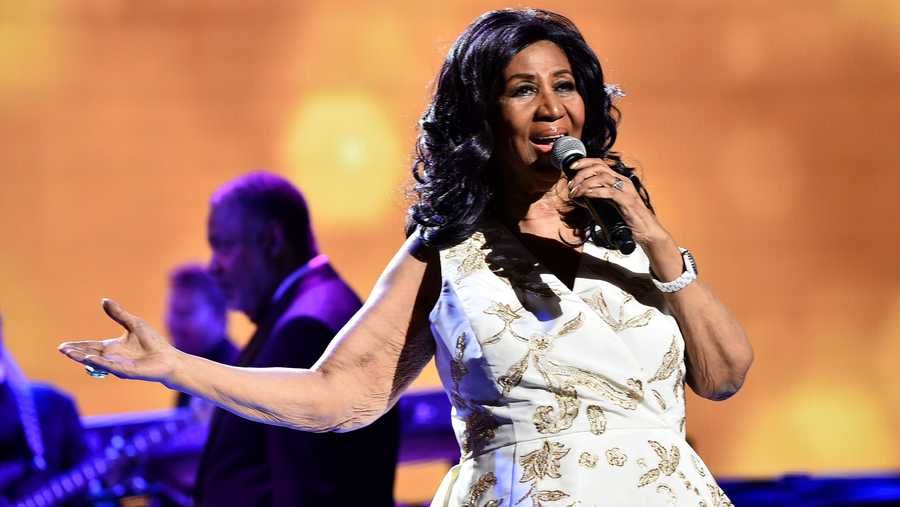 News anchor Evrod Cassimy reported: 'I am so saddened to report that the Queen of Soul and my good friend, Aretha Franklin is gravely ill. I spoke with her family members this morning. She is asking for your prayers at this time. I'll have more details as I'm allowed to release.' Breaking the news in his Showbiz 411 column, veteran entertainment reporter Roger Friedman said: 'Aretha is surrounded by family and people close to her.
She will be so missed as a mother, sister, friend, cousin. 'But her legacy is larger than life. It's not just that Rolling Stone called her the number 1 singer of all time, or that she is the Queen of Soul. Long live the Queen.' Aretha was reportedly diagnosed with cancer in 2010 and ordered to rest by doctors in March. The musician was forced to cancel two live shows in March on doctor's orders, making her last live performance at the Elton John AIDS Foundation in New York last November.
That same month, Aretha was forced to confirm to Us Weekly that she was 'doing well' after a fake Twitter account sent out a hoax about her death. 'I'm doing well generally, all test have come back good,' she explained. 'I've lost a lot of weight due to side effects of medicine, it affects your weight… Thanxxxx for your concern.'
Previously, Aretha denied reports she was battling pancreatic cancer in 2011. Yet reports by the National Enquirer  put her extreme weight loss down to a cancer relapse and chemotherapy in 2017. During her glittering career, she has won 17 Grammy awards, as well as three special recognitions from the academy, and even achieved a Golden Globe award for Never Gonna Break My Faith.
Aretha, whose biggest hits has included Respect, I Say A Little Prayer and Natural Woman, retired at 74 with one final album release, a collaboration with Stevie Wonder in 2017. She said at the time: 'I must tell you, I am retiring this year. I feel very, very enriched and satisfied with respect to where my career came from and where it is now.'
Beyonce and Jay-Z took a moment out of their On The Run II tour in Detroit to pay tribute to the Queen Of Soul. Aretha Franklin is said to be in a hospice gravely ill and near the end of life, which has prompted Beyonce to take a moment to give a nod to the singing legend. During the performance, the Apesh*t star said: 'We love you and thank you for all the beautiful music.'
Beyonce and Aretha haven't always seen eye to eye, as Bey once got the singer's back up by referring to Tina Turner as 'the Queen' despite Franklin being the 'Queen Of Soul.' The Respect singer later released a statement saying it had been a 'cheap shot for controversy,' ending the statement 'love to Beyonce anyway.'