Cristiano Ronaldo scored a goal in his first Juventus appearance as the first team defeated the B team, their under-20 squad, 5-0 in the club's annual friendly at the Agnelli family estate in rural Villar Perosa.
Ronaldo, who joined Juve from Real Madrid last month, began preseason training on July 30 and did not participate in any of the International Champions Cup games in the United States.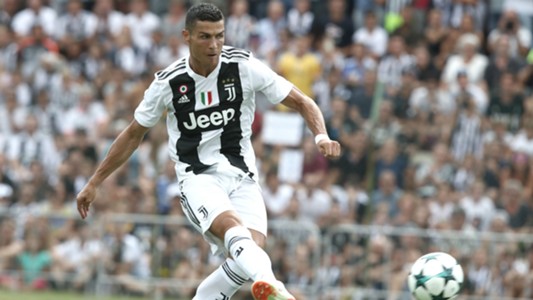 He scored the opening goal in the eighth minute, taking down a long ball over the top to beat goalkeeper Leonardo Loria, then forced an own goal from Riccardo Capellini 10 minutes later.
"An exciting day in a special place that tells the winning story of Juventus," Ronaldo wrote on Twitter after the game. "Thanks to all of the fans for their great support!"
Paulo Dybala scored in the 31st and 40th minutes, and Claudio Marchisio struck in the 53rd minute to round out the scoring for the first team.
A pitch invasion from the nearly 5,000 fans in attendance forced the end of the game after only 72 minutes.
Leonardo Bonucci, who returned to Juve two weeks ago after one season at AC Milan, and Emre Can, who moved from Liverpool, both started the game, with Mario Mandzukic, Sami Khedira and Miralem Pjanic available off the bench.
Ronaldo will make his first official appearance for Juventus on Saturday when they open their Serie A campaign at Chievo Verona.
A versatile attacker, Ronaldo is capable of playing on either wing as well as through the centre of the pitch,and, while ostensibly right-footed, is very strong with both feet.
He ranks among the world's fastest footballers, both with and without the ball.Tactically, Ronaldo has undergone several evolutions throughout his career.
While at Sporting and during his first season at Manchester United, he was typically deployed as a traditional winger on the right side of midfield, where he regularly looked to deliver crosses into the penalty area.
In this position, he was able to use his pace and acceleration, agility, and technical skills to take on opponents in one-on-one situations. Ronaldo became noted for his dribbling and flair, often displaying an array of tricks and feints, such as the step overs that became his trademark.
As Ronaldo matured, he underwent a major physical transformation, developing a muscular body type that allows him to retain possession of the ball. His strength, combined with his elevation and height of 1.85 m (6 ft 1 in), gives him an edge in winning aerial challenges for balls. These attributes allow him to function as a target-man, and makes him an aerial goal threat in the penalty area; consequently, many of his goals have been headers.
Allied with his increased stamina and work-rate, his goalscoring ability improved drastically on the left wing where he was given the positional freedom to move into the centre to finish attacks. He also increasingly played a creative role for his team, often dropping deep to pick up the ball, participate in the build-up of plays, and create chances for his teammates, courtesy of his good vision and passing ability.
In his final seasons at United, Ronaldo played an even more attacking and central role, functioning both as a striker and as a supporting forward, or even as an attacking midfielder on occasion.
He developed into a prolific goalscorer, capable of finishing well both inside the penalty area and from distance with an accurate and powerful shot, courtesy of his striking ability. An accurate penalty kicktaker, he also became a set piece specialist, renowned for his powerful, bending free kicks, though his ability in this regard deteriorated later on in his career.
At Real Madrid, Ronaldo continued to play a more offensive role, while his creative and defensive duties became more limited, although not entirely diminished. Initially deployed as a centre forward, he was later moved back onto the left wing, though in a free tactical role; this position allowed him to drift into the centre at will to get onto the end of crosses and score, or draw out defenders with his movement off the ball and leave space for teammates to exploit.
Madrid's counter-attacking style of play also allowed him to become a more efficient and consistent player, as evidenced by his record-breaking goalscoring feats. However, while he mainly drew praise in the media for his prolific goalscoring, he also demonstrated his ability as an effective creator in this role.
From 2013 onwards, he effectively adapted his style to the physical effects of ageing with increasingly reduced off-the-ball movement and general involvement, completing fewer dribbles and passes per game, and instead focusing on short-distance creating and goalscoring.
Since 2017, Ronaldo has adapted his style of play yet again to become more of a free-roaming centre forward, a role in which he has continued to excel and maintain a prolific goalscoring record; in this position, he has earned praise in the media for his intelligent movement, excellent positional sense, link-up play, clinical finishing, and opportunism, as well as his ability to lose or anticipate his markers, find space in the box, and score from few opportunities.