Daniele Rugani's agent Davide Torchia confirmed Chelsea are interested in signing the Juventus centre-back.
Rugani has been heavily linked with Chelsea after former Napoli boss Maurizio Sarri replaced Antonio Conte at the Premier League giants.
The 23-year-old Italy international defender worked under Sarri during his loan spell at Empoli.
Speaking prior to Juve's International Champions Cup clash with Bayern Munich in Philadelphia, Torchia acknowledged Chelsea's pursuit, though he insisted Rugani is happy with the Serie A holders.
"The interest from Chelsea is there for Rugani," Torchia told Radio Sportiva.
"Beyond the figures though there's a technical question, neither the player nor Juventus have ever said they want a sale.
"The operation with Chelsea is separate from [Gonzalo] Higuain, each deal has a different cost and different dynamics.
"The two players can bring in different profits. Rugani is calm and happy, he's at the pre-season training camp and he's thinking about Juventus.
"Tonight he'll play against Bayern Munich, but that doesn't mean he doesn't have offers, just that he's thinking of his current club, which is at the highest level."
Born in Lucca, Italy, Rugani began his footballing career with Tuscan side Empoli in 2000, at the age of 6. He remained within the club's youth academy for twelve full seasons, before being transferred to Serie A giants Juventus on loan in August 2012, for €150,000 fee. After joining Juventus, Rugani was registered with the club's Primavera (under-20)youth squad where he was a regular starter within the side during the 2012–13 season, winning the Coppa Italia Primavera.
After his successes during his first season with Juventus, Rugani was purchased by the club on 31 July 2013 in a co-ownership deal for €500,000 and then sent back to Empoli on a season-long loan deal ahead of their 2013–14 Serie B campaign.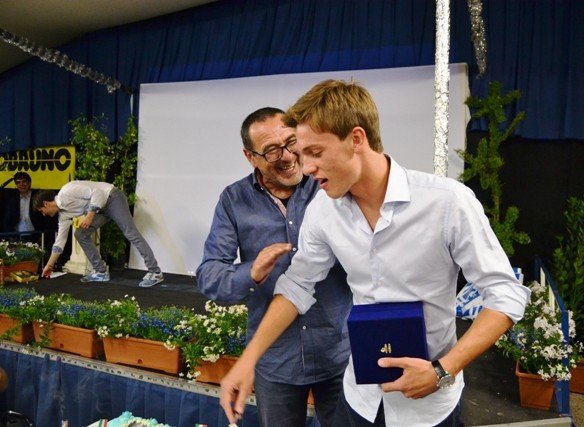 At age 20, Rugani was Empoli's star defender during their successful campaign, as he finished the season having made 40 appearances and scoring 2 goals for the club. He scored his first career goal from a header off of a corner on 22 March 2014, in a 4–0 home win over Reggina. The club finished the season in 2nd place, thus achieving automatic promotion to Serie A, alongside champions Palermo.
Rugani is a tall, tactically versatile, and physically strong centre-back, who is good in the air, both defensively and offensively. He is known in particular for his anticipation, intelligence, and marking ability, despite his lack of notable pace or mobility. He is also considered to be a correct player, who often avoids committing to challenges, preferring to restrict his opponents through his positioning. Due to his confidence in possession, he is capable of playing the ball out from the back-line. Regarded as one of the most promising young Italian players of his generation, in 2015, he was named one of the best players in the world born after 1994, by Don Balón.