After surviving the Xenophobia Remarks scandal, Hon Charles Jaguar has once again rubbed Kenyans the wrong way,  after he lied about his location on social media.
Two days ago, he shared photos of him posing on the balcony of a fancy building. The photo revealed a beautiful view which is very familiar to anyone who is well versed with Nairobi, especially Westlands.
Despite the fact that people could clearly see that Jaguar was somewhere in Nairobi, he went ahead and wrote this caption on one of the photos:
  "Good morning from Dar es Salaam"
From the comment section, Jaguar succeeded in fooling many people into believing that he had truly traveled to Tanzania perhaps to make amends after his xenophobic attacks on Tanzanian business people working in Kenya. Look here!
Karibu Tz Nchi yenye amani na mbwembwe kibao
Karibu Tanzania,nchi isiyo bagua utaifa wala uraia wa mtu! Na wewe tulishakusamehe kwa kuwa hujui utendalo.
You won't believe that Jaguar's photo also misled media houses, where some wrote articles about his visit to Tanzania to make peace after his xenophobic remarks.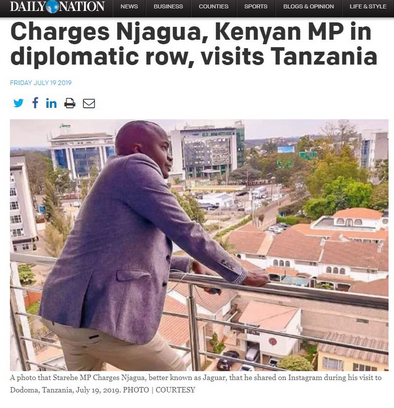 But wait!  which lie can survive in Kenya, especially on social media? Absolutely none. It did not take long before hawk-eyed Kenyans identified the familiar grounds and specific points to prove that was not Jaguar was not anywhere in Tanzania but Nairobi.
After fans learned that Jaguar was fooling them, they trolled him for misleading people through petty lies.
Hiyo place inakaa wetlands kabisa
It costs nothing to say you're in Westlands 😂😂😂😂😂😂
Why are you lying unprovoked? This is Muthangari drive 😂😂 See Safaricom HQS? 😂😂
😂😂😂Apa ni westlands kenya, unatubeba aje ufala ivi mheshimiwa? 😂
That is Westlands…you can spot safaricom offices…
So siku hizi westlands has a new name Dodoma who is but waters Leo pale dodoma????
Haha this is Muthangari drive mheshimiwa. Enyewe watu hawajui Nairobi. 😂