The Director of Criminal Investigation (DCI) George Kinoti has launched Investigation into an alleged fake purportedly emanating from Deputy President William Ruto's Harambee Annex Office.
The letter which advised the Attorney General on how to go about the Revenue Division stalemate between the Senate and National Assembly allegedly came from the President. But Statehouse claims the letter is not genuine and does not represent the views of the President.
Ruto's office has denied knowledge of the letter.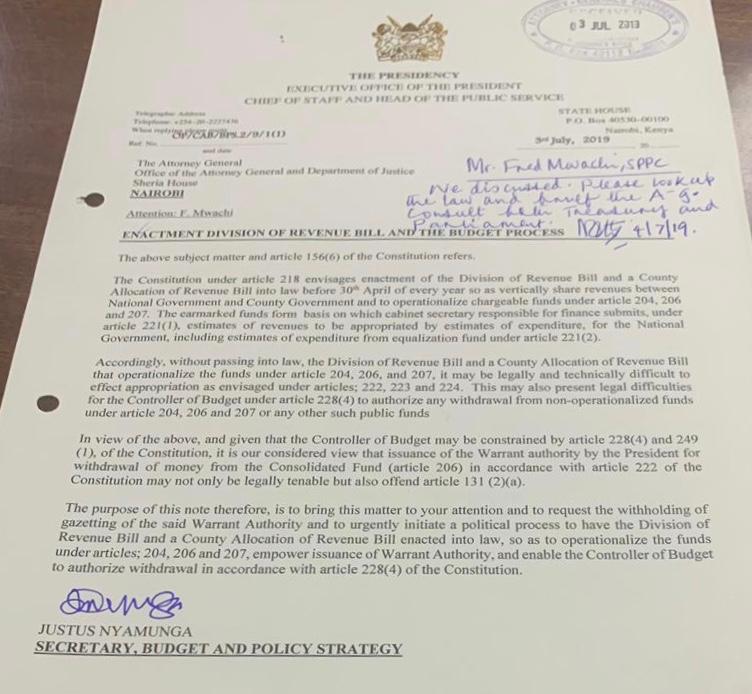 The other faked letter is handwritten which Justus Nyamunga Secretary, Budget and Policy Strategist reminds Senior Principal Parliamentary counsel at office of the AG Fred Mwachi of their discussion on July 4. "Please look up the law and brief the AG. Consult therein, Treasury and Parliament."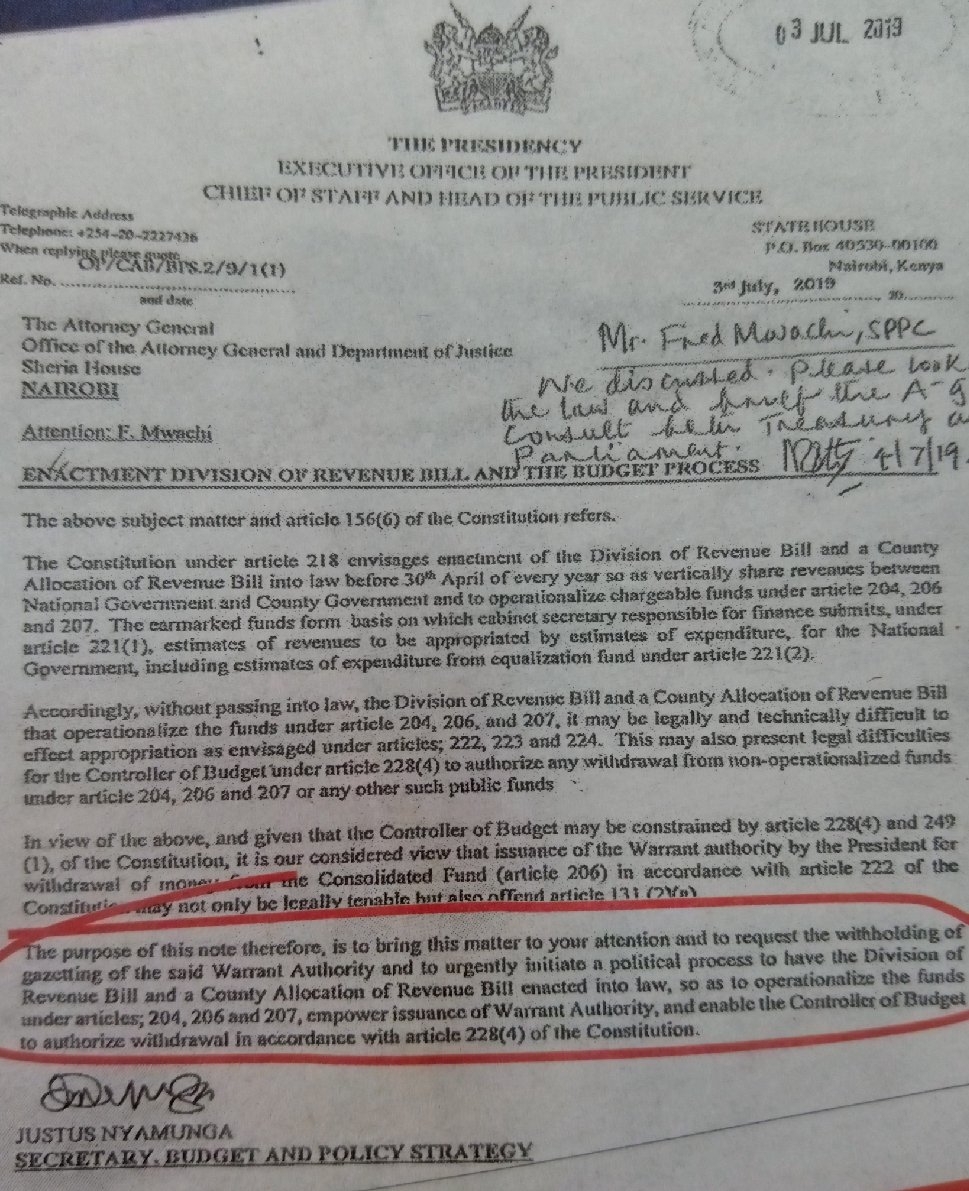 DCI has begun investigations to get to the bottom of the matter involving the faked letter.
The DCI has vowed to investigate the authenticity and genuineness of the said letter which is creating a rift between the office of the head of state Uhuru and that of his Deputy Ruto.
"Detectives have launched investigations into the source of the suspicious letter directed to the Attorney General, which is alleged to have originated from the Office of the President,"Read a statement on DCI's Twitter handle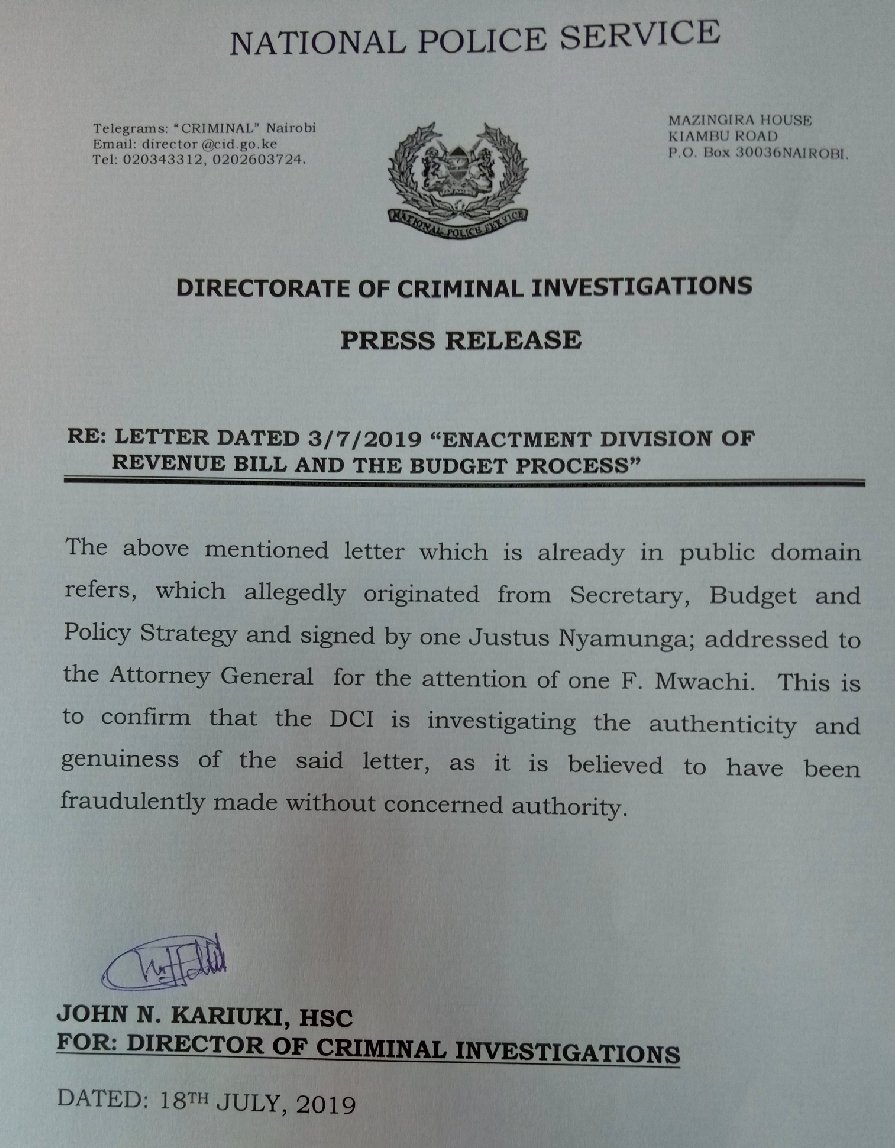 The letter is addressed to the Attorney General and is printed on the letterhead of The Presidency, Executive Office of the President, Chief of Staff and Head of Public Service. It sought to advise the AG on the technical aspects of the Division of Revenue Bill stalemate, which guide division of cash between the national and county governments.
This is just but the second incidence where the office of the Deputy President is being associated with a fake letter. In the first incidence his office was alleged to be behind the letter with details of his assassination plot.
Statehouse Communication strategist Dennis Itumbi was arrested and later released. Itumbi who is a very close ally to Ruto was linked to that fake letter which was circulated all over including Tangatanga WhatsApp Group.
DCI used the intervention of FBI to crack the fake letter.
The matter is still in court with investigative agencies still gathering information which they can use to prosecute Itumbi.