Kenyans on social media have come out to blast Kenyan artist Bahati for the continued persistence of gospel singer Ringtone's 'wife search' which has taken forever and demands that he should take Ringtone to his Church to get a 'prayer partner'.
Taking it to his Instagram, he wrote;
Please Kenyans Tukishikana Hauwezi Shindwa kutaftia My Brother @RingToneApoko WIFE… TAG MTU UNAONA ANAMFAA 🤣🤣🤣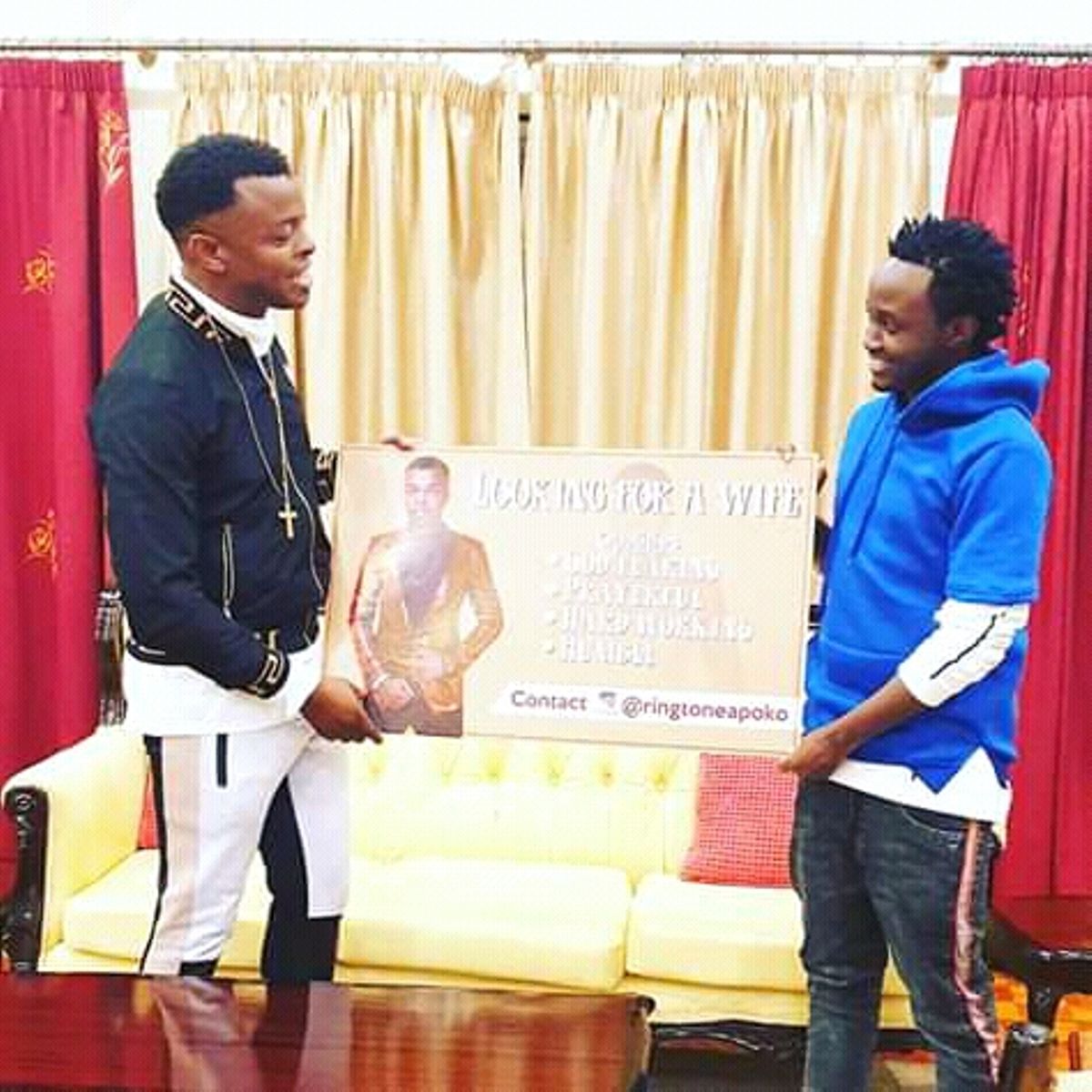 See reactions:
brianmwiti09 Actually @bahatikenyapeleka ringtone kwa church yenu apate prayer partner na umshow asikue anatoka kanisa mapema achill ndio asake Bibi after the service😂😂
salomewinnie Si sister ya Diana ni single mwambie achukue wewe
my_life._has Nani atakubali kuitwa Mrs .Apoko @bahatikenya 😂😂
shantel_sabrina Please aende kwa wall ya @captainotoyo Kuna Dem amepost Apo ako na qualifications zenye apokoo anataka😂🤭😔
This is not the first time Bahati is supporting Ringtone on that, two weeks ago, Bahati promised to get Ringtone God-fearing women.
In a post on his Instagram page, Ringtone said that he will not give up in his quest to find a wife.
The two artists had posed for a photo holding a placard made by Ringtone with the text 'Looking for a wife' written on it.
"@bahatikenya has offered to introduce some God-fearing people to me. I'm not giving up," said Ringtone.
According to the 'Tenda wema' singer, he's looking for a wife who God-fearing, prayerful, hardworking and humble.
This comes a few days after Ringtone took his 'search' to Bishop Kiuna's Church carrying his placrd after the Church service which later turned out ugly.