Deputy President William Ruto's assassination claims continue to cause mixed reactions in the country just two days after four cabinet secretaries from Mt. Kenya region were summoned to DCI headquarters to record statements over the same.
On Wednesday, Narc Kenya Party leader Martha Karua together with Lawyer Ahmednasir Abdullahi set the social site, Twitter on fire after the two engaged in a deadly exchange of words following the assassination claims.
The engagement started when Abdullahi on Tuesday suggested that President Uhuru Kenyatta disband the entire cabinet and start afresh. This was in reaction to the assassination allegations made by Deputy President William Ruto on Monday.
In light of the allegations made by Deputy President William Ruto that about 4 members of the CABINET (same TRIBE) are planning to kill him, H.E Uhuru in my CONSIDERED view MUST DISBAND his cabinet/government and start a fresh…I don't think this has PRECEDENT in our history.

— Ahmednasir Abdullahi SC (@ahmednasirlaw) June 25, 2019
Responding to the tweet, Karua rubbished the lawyer's remarks terming it a joke wondering why the deputy president himself had refused to produce a written statement to the investigators. According to her, Ruto was not sincere with his allegations hence was guilty as well.
What a joke! Why would that happen when @WilliamsRuto hesitates or refuses to make a written statement to the investigators? If tribe equals quilt all are guilty including you https://t.co/7g8Bk8qrlN

— Martha Karua (@MarthaKarua) June 26, 2019
And in a quick encounter, Abdullahi accused his fellow lawyer of being so fast and in defending her tribesmen without first taking into account what the whole claim involved. He warns her that he doesn't tweet jokes.
Karua fondly referred to as the 'the Iron Lady' by her supporters was not one to back down. She was quick to clap back at Abdullahi, reminding him that he does the same 'charging' when he spots a potential client.
Much like you do when you sniff a likely client? https://t.co/WJCSuUjTtr

— Martha Karua (@MarthaKarua) June 26, 2019
According to law Professor Makau Mutua, Ruto's assassination claims was just a clever idea by the self-proclaimed hustler to divide Mt. Kenya region leaving President Uhuru Kenyatta with nothing to cling on in 2022.
"It doesn't matter whether Ruto's assassination claim is a head fake, or not. It's a BRILLIANT move to divide — neuter — the House of Mumbi. It puts Kenyatta between the devil and the deep blue sea. Mumbi's children will be scattered to the four winds. Wolf among the goats!" Tweeted Makau
On Monday, William Ruto reportedly made a verbal complaint through State House, that some top officials comprising Cabinet Secretaries and Principal Secretaries were plotting to eliminate him.
The claims were later rubbished by a section of Mt. Kenya leaders who claimed that Ruto's allegations were meant to intimidate them from holding their regional meetings.
However, on Wednesday morning, the Directorate of Criminal Investigations (DCI) Headquarters through a senior officer maintained that Ruto had not recorded any formal complaint with them hence making the commencement of investigations difficult.
"Without the complainant's statement, it is difficult to undertake an investigation," said the officer.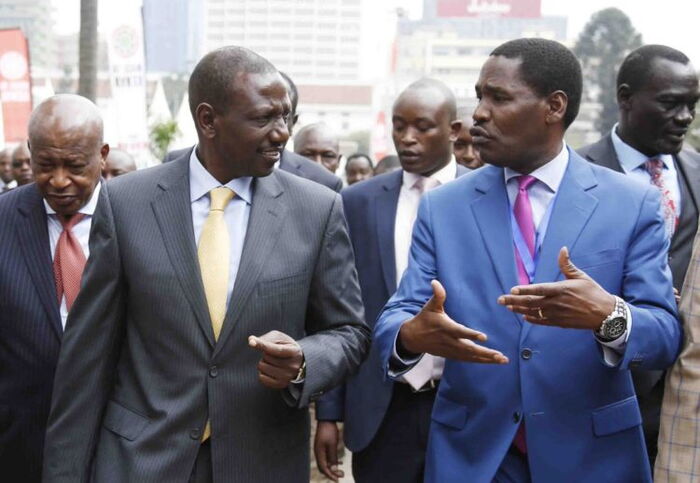 According to confidential reports, Ruto is understood to be reluctant to record a statement with any other DCI officer, insisting that he can only do so before DCI Director George Kinoti.