Is Eric Omondi Back to his ex-girlfriend Jackie Maribe? If yes this would be too fast because he just broke up with his Italian Girlfriend Chantal Grazioli a few weeks ago.
It is alleged that Eric Omondi was Dating Jackie Maribe some years back and together they had a son. If this is anything to go by, then it makes Eric Omondi a baby daddy to Jackie Maribe.
Take a look at this photo of Eric and Jackie! So intimate
However, things happened and Jackie was seen with the Digital Strategist Dennis Itumbi. Despite the fact that Jackie denied dating Itumbi the two were extremely intimate and this photo tells it all.
Take a look!
Later Jackie moved on with Jowie until the Monica Kimani's Murder Case when their relationship hit a dead end after spending nights in the remand cells.
All the while Eric had moved on with Chantal Grazioli whom they broke up about a month ago rendering Eric a bachelor again. But what is life? His ex was also single again! Lol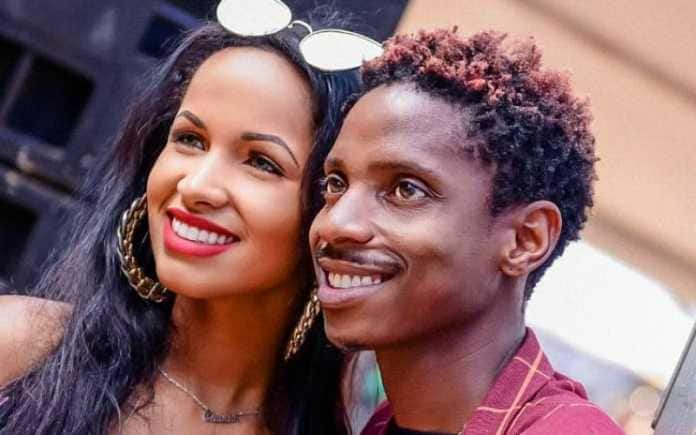 4 days ago, Dennis Itumbi took to social media and shared shocking details about Jackie Maribe. In a well-designed post, Dennis featured heavily Pregnant Jackie and sent a baby shower Invitation to the public stating that people could put on their favourite colours.
dennisitumbi

All invited. @cahootspubpub, pale Kindaruma Road
Dress Code – Your Favourite Colour!
@jacquemaribe
Now Eric Omondi took to social media and shared a short video of him and Jackie Maribe with a cryptic message to the public saying that;
Niko hapa nawatch ball yangu
While Dennis had hinted that Jackie was expectant, Eric talked about watching 'his' ball while holding Jackie. Given that Eric promotes DSTV Kenya and it's AFCON Season, it was easy for him to encrypt his message in the two subjects.  See the chemistry in the video.
If true Jackie Maribe is pregnant, could it be Eric Omondi's baby number 2?
Eric Omondi's Post evoked weird reactions from fans with some claiming that he went back to Jackie after leaving his Italian fiancee.
Take a look at some of the comments;
bri_the_foodie
Is that jacky maribe?
gracetwashiqs
Haija kwani mko na maribe tena 😝😝
nyarteso
Baby no 2 wa Eric omondi on the way,congratulations
polytabbzUmerudi kwa jackie 😍😍😍
lucie_mburu_
Wah Jowie uko wapi kimeibiwo😂😂😂
rasul.mtemi
Utaskia kuna prison break.. Wamnyonyezi ako mtaa.. Erico chunga sana 😂😂😂
levybethwel
@jowie.jowi si hii ni kriminoo😂😂😂
mwihakikuriah
Now I see why Chantel left you😎