Popular Kenyan Youtuber Elodie Zone has been at the center of cyberbullying for calling android users poor. The young lady who first sparked netizens anger last week with her 'arrogance' has further fuelled the rage with a new video many are calling a 'pitty video' in an attempt to get fans to like her again.
The Youtube star who was once a fan favorite has tumbled to the bottom of the barrel very fast after the two videos. Hate comments have been left all across her social media pages.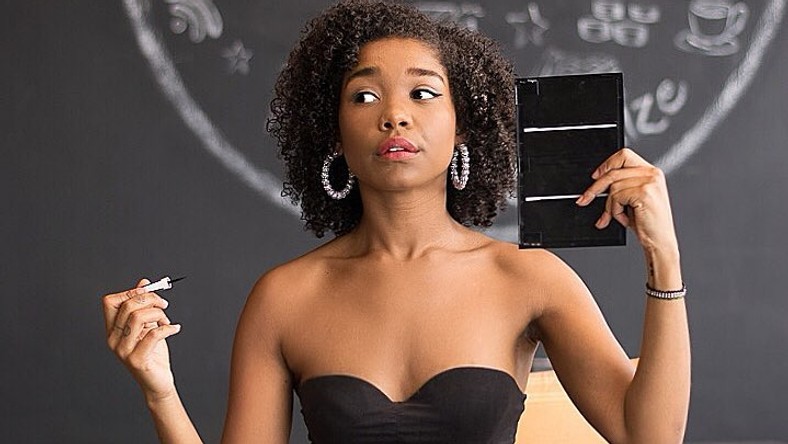 In the latest video, she attempts to get people to really get to know her and her life story. She narrates how her parents were struggling financially before they got a divorce and that's when the money started to come.
She narrates her education journey through some of Kenya's elite international schools including the International School of Kenya, Brookhouse, Braeburn, and St Andrews Turi and how she got bullied everywhere she went. She narrates these to try and illustrate what a thick skin she has grown over the years and that online trolls can't get to her.
Sadly for her, the hate only grew worse this time as there have hardly been any supportive comments left. Her Youtube seems to have suffered a great blow as well because the star who used to have thousands of subscribers has now hidden the actual number of subscribers meaning netizens stayed true to their word and unsubscribed.
Check out the controversial video that has angered many ex-fans:
Here are some of the comments left on the video :
Meanwhile younger girls than her are dying or literally fighting for their lives in sudan huyu anaongelea juu ya being hurt by comments…oh and having breakfast and a family..smh.
I have a counselor who helps rich spoilt girls with a nasty attitude on speed dial 😏slide 😂😂😂😂
I swear I loved you until you legit slammed somebody on your story about wanting to post a pic, I mean you could have said no directly and let it go then you went ahead and posted that damn video. Well the pride has always been there but i believe in uplifting people coz we all have weaknesses no matter how hard we try not show them, I'm sure this goes for most people, we overlooked the proud rich girl and chose to see the positive. Big talk about how you don't need validation then BOOM!! an apology video (ps call it what you want but we all all see a girl trying to defend herself but not humble enough to outright give an apology.) We might unsubscribe or unfriend but the facts remains, that won't change you or humble you. Always remember though,this world has so many lessons to teach and it can legit make you a believer of somethings you never thought possible.
Let us be Honest about the REAL Reason we are "Attacking" Elodie. This girl is Seriously too Damn Proud, Social Media, unfortunately, has created a vanity within her that has allowed her to Believe that she's Famous. She is focussed on comparing her hair; her iPhone; her travel vlogs; her Instagram followers; her IG likes with everyone else. She fails to focus on what really matters – Her Spirit and her Personality. Honestly, how can you attack people because they use Androids? How can you tell us you were bullied in Highschool then go ahead and Troll people Online? Elodie; if Instagram and iPhones disappeared and the whole world went blind, honestly who would you Impress?
Madam you are such a drama queen 😏 whatever happened in your childhood is the tussles of life. It made you tough means it shouldn't depress you if such a thing ever occurs,, it doesn't mean it should make you proud thinking you are better than everyone.. But issokay eagles don't mingle with chicken's so i heard😂😂.. . First of all your iphone is not the latest model even…😏 and you are here bashing aty android androids oooh.. Look at you! You have 125k followers but most of them dead i saw you celebrating getting 20k views on your highlights i thought you supposed to get more because you have the numbers but oh well you can't buy views too 😂😂..yes i am using Android and am proud of that.. Be humble and try being more creative,,, and the assumptions all seem true because you were too salty about them. Bye x😂😌😪
nyamuu._ Pesa huisha lakini😹. Hizi android unatusi unaweza jipata ukitumia ata kabambe😹😹😹. Money has wings, literally 😹😹
We have had so many kids from poor backgrounds who have gone through hell and they get blessed become rich but they never look down on others.. sasa wewe you want to come with the excuse of being bullied as an excuse for you slamming people on social media??? Rudeness and a bad attitude is not an excuse .. own up grow up and get your shit together girl.. bado unamea hujafika bado mdem!!! we've all been bullied in one way or another.. and sijai kaa chini and start looking down on people because i went through that. We are not the reason you were bullied so.. alama ya Duku Duku! ✌🏿
Your being bullied everywhere you went actually speaks a lot about the person you are. Clearly you were the problem hence the constant bullying. Maybe you think you're better than the rest but you're just a normal girl seeking attention and putting up a fake facade but it's yourself you're lying to. Humility is key in this life.
Sisi mafans wa Rono na Kartello tunakaa wapi 😂😂😂
This video won't make us forget of the lubbish you told us
Her boyfriend Jeremy Mwendwa came to the rescue after one netizen told him to defend her.
The two have been serving the internet with couple goals ever since Elodie broke up with Mwai Kibaki's grandson Sean Andrew. Here are the comments:
The whole situation has remained a complete mess for the lass who was doing so well in her career. Kenyans are curious to see how this goes and if it will affect her career, as it has already severely damaged her popularity and brand.