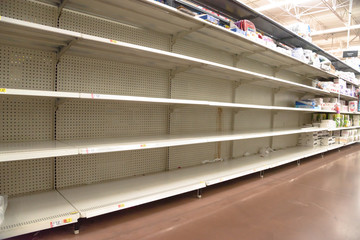 A fortnight ago, Caroline walked to a Choppies store along River-road Nairobi to shop for an item after desperately from other outlets. At Choppies too, her search was misfired.  Further to her shock, she was met by empty shelves and sad attendants. That is Choppies Supermarket.
Choppies is the Twsana retail store that made a hyped entry to Kenya in 2016. It originates from Botswana and trades at Botswana and Johannesburg Stock Exchanges as CHP.
Both stock exchanges last year suspended Choppies from the listing over failure of the retail chain to disclose its financial results for the previous year.The suspension was later lifted after the company showed compliance to provide the results. However, the ban had already caused damage.
After three years of an unsuccessful breakthrough,  retail store Choppies is a ailing with wounds. The wounds injuring the once a promising retail chain seem to emanate from internal wrangles from its motherland which have culminated to empty shelves, unpaid suppliers and firing of top staff.
By 2017, the outlet had over 71 stores in South Africa. By June 2017,  it had a total of 212 stores in Africa with a presence in 8 countries. In April 2019, the retail chain had around 260 stores distributed over east and south Africa.
Choppies started as retail for groceries and fast moving consumer goods but later diversified to household and general usage goods.
Despite having acquired Ukwala Supermarket prior to its entry in Kenya, Choppies is also following the likes of Uchumi and Nakumatt.
The retailer has managed to open 15 stores in Kenya with three in Nairobi CBD and several others distributed over the country.
The problems ailing Choppies are the aftermath of shareholding wrangles. The wrangles have led to delay in the publishing of critical financial documents and slowed down operations.
With disputed managerial operations, suppliers to the Kenyan stores have been reluctant to supply to the retailer fearing delayed payments, an officer from the Airport North Road branch was quoted by a local daily, though off-record.
In individual shareholding, Farouk Ismail (Current Deputy Chairman) and Ramachandaran Ottapathu are the main owners with the rest ownership held by firms, among them a Zimbabwean firm.
The CEO Ramachandaran Ottapathu, was fired by the board barely a week ago, a move that didn't seem to go too well.
For Choppies to survive in Kenya, it perhaps need to revamp and localize the management of its stores, owing to the volatile Kenyan market that phased out Uchumi, Ukwala and lately Nakumatt.
If Carol would have knew better, she might not have walked to Choppies.