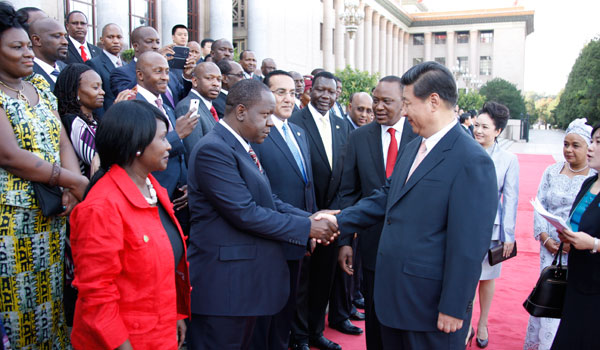 Once, Kenyan government welcomed the Chinese with open arms, little didn't the government realized that there will be more impacts than receiving financial tips and loans for developments.
70% percent of local companies in Kenya are complaining about the country's increasingly hostile business environment as concerns rise over protectionism, forced technology transfers and tightening censorship.
"Challenging", "hesitant" and "doubtful" are the kind of words most markets are using towards China and to describe the market.
Local traders now say Chinese dealers are operating out of backpacks, evading taxes and undercutting the prices charged by local businessmen. There are claims that the Chinese have infiltrated countryside and are now operating small-scale farms in villages as far away as Kisumu, Kisii, and Kuria.
Concerns over the business climate are mounting, and range from rising protectionism and slow progress in market access to forced technology transfers and tightening internet censorship.
There can be little question that the government needs to move with alacrity on the issue of Chinese petty traders, and on key investment issues concerning the national economy and the lives of ordinary people.
For instance, Kenya's exports to China account for less than two percent of its total domestic exports. Kenya is the world's fourth biggest exporter of cut flowers but its main export commodities to China are raw hides and skins (which it's the biggest exporter to China in the world), scrap metals and sisal.
Business economists state that Kenya is benefiting less than the Chinese noting that the greedy for quick loans is blindfolding the Jubilee government.
A few months ago, Hundreds of Kenyan traders took to the streets of Nairobi accusing Chinese dealers of abusing tourist visas to come into the country and peddle cheap wares.
Scores of large Chinese corporations have moved into the East African country, and other parts of the continent, to build factories and roads and extract its oil and minerals.
The Kenyan traders said the big businesses had been followed by thousands of small Chinese dealers who got tourist visas, then headed out to the streets to push anything from milk to electronics.
"The issue is to expel these Chinese from Kenya, the ones that are disturbing our customers. They are involved with every bit of our trading," James Thamo, who owns a textile trade business and a hotel, told reporters.