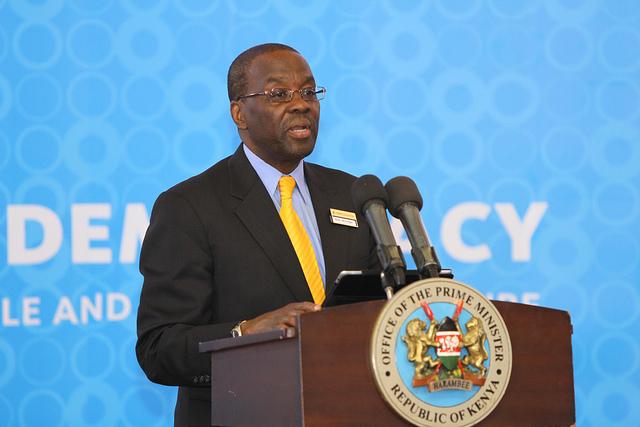 Three years ago, former Kenya's chief justice Willy Mutunga went on record saying that Kenya was at war with mafia-style cartels and run by corrupt politicians and business people.
Mutunga was speaking to a Dutch newspaper when he claimed that organised crime stretched across all of Kenyan society and had "never been worse".
"The influence of the cartels is overwhelming," he said. "They are doing illegal business with politicians. If we do not fight [them], we become their slaves."
Jared Otieno the man DCI is after for conning a Chinese national Ksh 300m for pretending he could sell him gold is not a stranger to the syndicate but his protection by influential government officials makes him untouchable.
Often referred to as a "flashy businessman" or "youthful tycoon" in media reports, Mr Otieno first came to the limelight when pictures emerged on social media in May 2015 as he hosted his in-laws at his rural home of Ndhiwa, Homa Bay County, before leading a delegation to Meru County three months later for dowry payment.
The climax was an invite-only wedding in October 2015 in Nairobi.
Present during Jared's visit to Meru, were influential political figures including Kisumu Senator Anyang Nyongo', his Meru counterpart Kiraitu Murungi and former Cabinet Minister Chris Obure.
The events were conspicuous for the show of wealth, with helicopters vying for parking space with top-of-the-range vehicles, including customised Porsches and Range Rovers. The delegations included politicians, corporate executives and friends.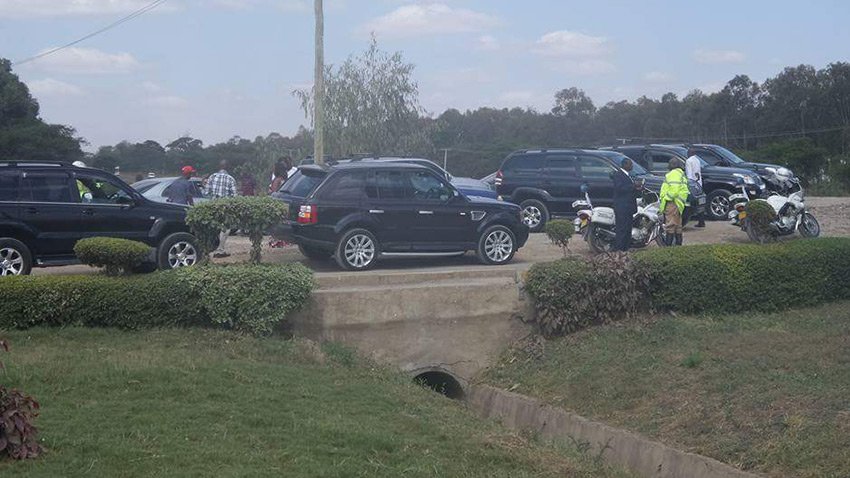 Notable, too, was the presence of police "escorts", including outriders. But amid the glitz, police in Nairobi were apparently on the hunt for a Mr Smith Mackenzie Otieno as they investigated a case in which Mr Christian Gallati, an Austrian national, was on May 1, 2015 defrauded of €127,000 (Sh13.7 million).
While Mr Mackenzie was listed as being "at large", Mr Kevin Obia alias Kevin Kleigh — who was also involved in Mr Otieno's marriage ceremonies — had made several appearances at Nairobi's Milimani Law Courts.
Mr Gallati had reported the case to Nairobi's Central Police Station on May 18, 2015 and has been flying in and out of the country to attend court sessions alongside a witness.
A source familiar with the case, but who spoke in confidence, said some court appearances have sometimes been postponed to the inconvenience of the Austrian, but a hearing is set for April 18.
After several investigations, it was revealed that Mr Jared Otieno and "Mr Smith Mackenzie Otieno" — also known as "Mr Smith Mackenzie" — is one and the same person.
"Flashy businessman" arrested. No wonder fighting corruption is difficult, with the euphemisms we use as journalists. He is a suspected conman. When @WMutunga said that the country is being run by mafia style cartels, we ran to the safety of euphemisms to avoid being sued 😩

— John-Allan Namu (@johnallannamu) May 16, 2019

As president of Kenya's supreme court, Mutunga admitted the legal system was ill-equipped to tackle the problem. "You are taking these people into a corrupt investigating system, through a corrupt anti-corruption system, and a corrupt judiciary," he said.
When I revealed that it was Jared Otieno who was involved in the scam, NTV host Ken Mijung'u called me to complain that it wasn't Jared Otieno who did that. See how we have destroyed media in Kenya?

Really Ken? Really? Ona sasa.

Cartels have gatekeepers in media houses.

— Robert Alai (@RobertAlai) May 16, 2019