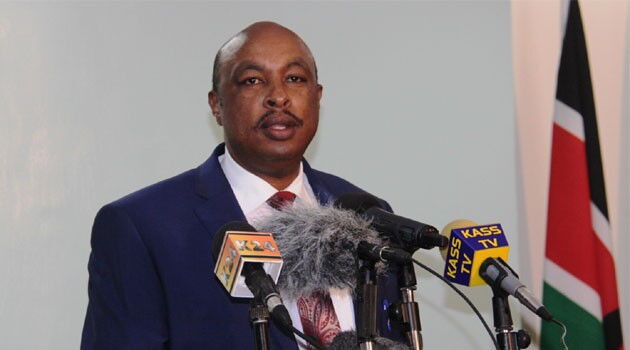 On 25th August 2017, in the aftermath of the contested Presidential Elections, Eric Kiraithe was quoted on the media saying that if anyone is not comfortable living in Kenya, anaweza enda Somalia akae huko.
"If one is not comfortable living in #Kenya, anaweza enda Somalia akae huko!"- @SpokespersonGoK Eric Kiraithe #LetsTalkSecession

— Lord Abraham Mutai (@ItsMutai) August 25, 2017
In February 2017, during an event organized by PAWA 254, Kiraithe admitted that the Kenyan government has a huge budget for corruption.
Of course the government has a huge budget for corruption – Government spokesman Eric Kiraithe #HealthCrisisKE pic.twitter.com/gaArh4YFqe

— NTV Kenya (@ntvkenya) February 15, 2017
On 16th May 2019, President Uhuru Kenyatta in his own wisdom has appointed Kiraithe as the new Cabinet Administrative Secretary
(CAS) in the Ministry of ICT. I doubt if Kiraithe at his age has any idea about ICT. The Jubilee government prides in calling itself the Digital government, but will it achieve this if they appoint old retarded men to jobs meant for the youth?
"Eric Kiraithe" illegitimate govt of Uhuru Kenyatta is recycling retired govt officials in expense of youth this unacceptable at all.

— Micah.kiprotich (@micahvanyego) May 16, 2019
When Eric Kiraithe was sacked as government spokesperson and replaced with Col Cyrus Oguna, some of us believed that this was a sign of good times in government communication.
"In line with directions from the Executive Office of the President through the Head of the Public Service, the office of the Government Spokesman shall be domiciled at the ICT Ministry," a statement from ICT CS Joe Mucheru said.
But in an interesting change of tune, Kiraithe has now been made Oguna's boss. Meaning he was not sacked but promoted. Such things only happen in Uhuru's government.
https://twitter.com/DebyTapkutuny/status/1128948006206738432
https://twitter.com/DebyTapkutuny/status/1128951781617217536
Former Govt. Spokesman Eric Kiraithe appointed ICT Principal Administrative Secretary. Wondering why we are good at recycling Gov't officials.

His successor Col. (Rtd) Cyrus Oguna was also seen sitting pretty in his first press meeting. Fanyeni kazi bana. pic.twitter.com/zBftFpE17Y

— Cyprian, Is Nyakundi (@CisNyakundi) May 16, 2019
Uhuru why? Why? Why are you recycling old guys whilst youths are tarmacking out here? The govt spokesperson seat would have been given to a youth,now worst of all you've given Eric kiraithe another top job? Our tears will make you sleepless forever.