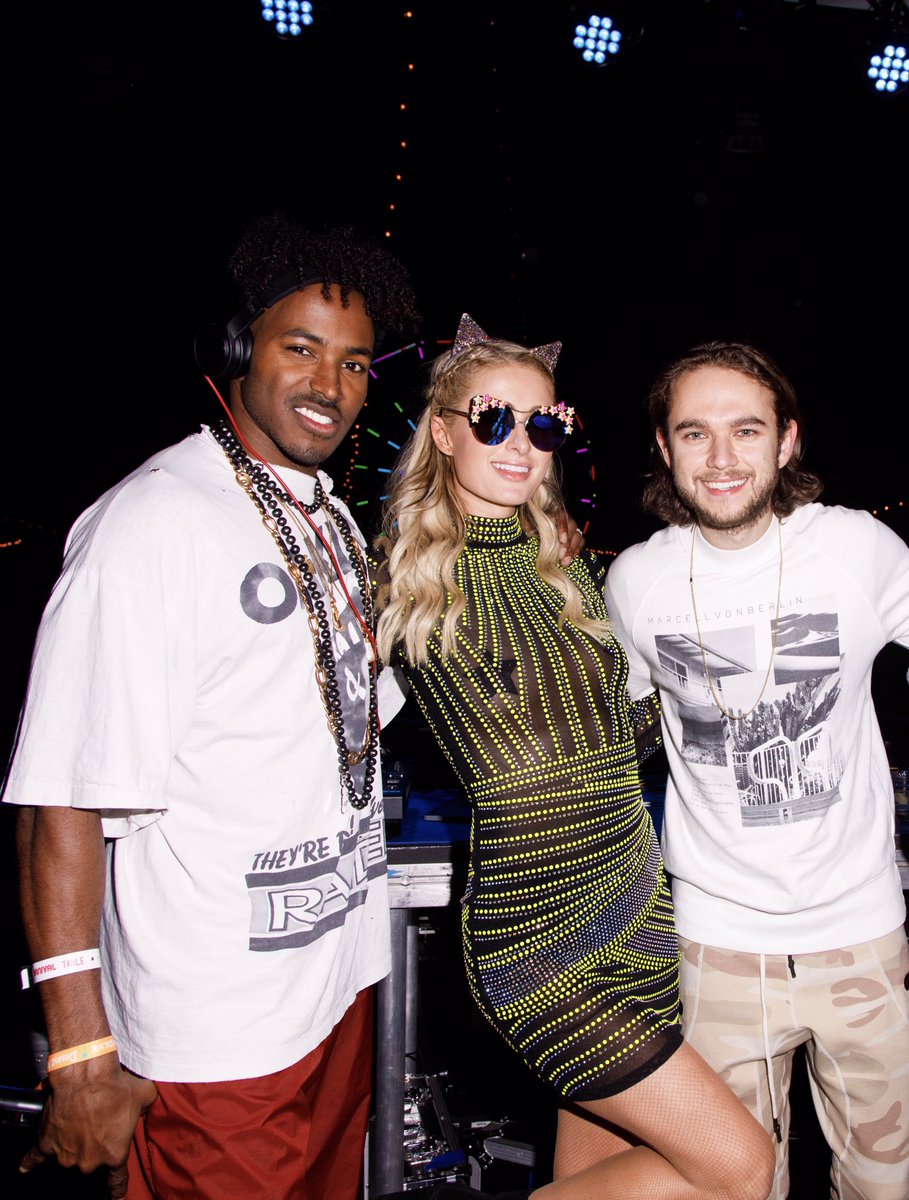 After more than a decade of attending, the famous socialite has become synonymous with the annual event and so has her bold festival fashion. 
The star has been dubbed by some as the Coachella queen and, as any matriarch knows, you have to dress for the job. Such has been the case for the 38-year-old mogul, who has become a mainstay of the event, whether alongside her famous sister Nicky Hilton Rothschild or on the arm of her man at the moment. 
No matter who she has with her, the star is always dressed to impress with her one-of-a-kind Paris Hilton flair.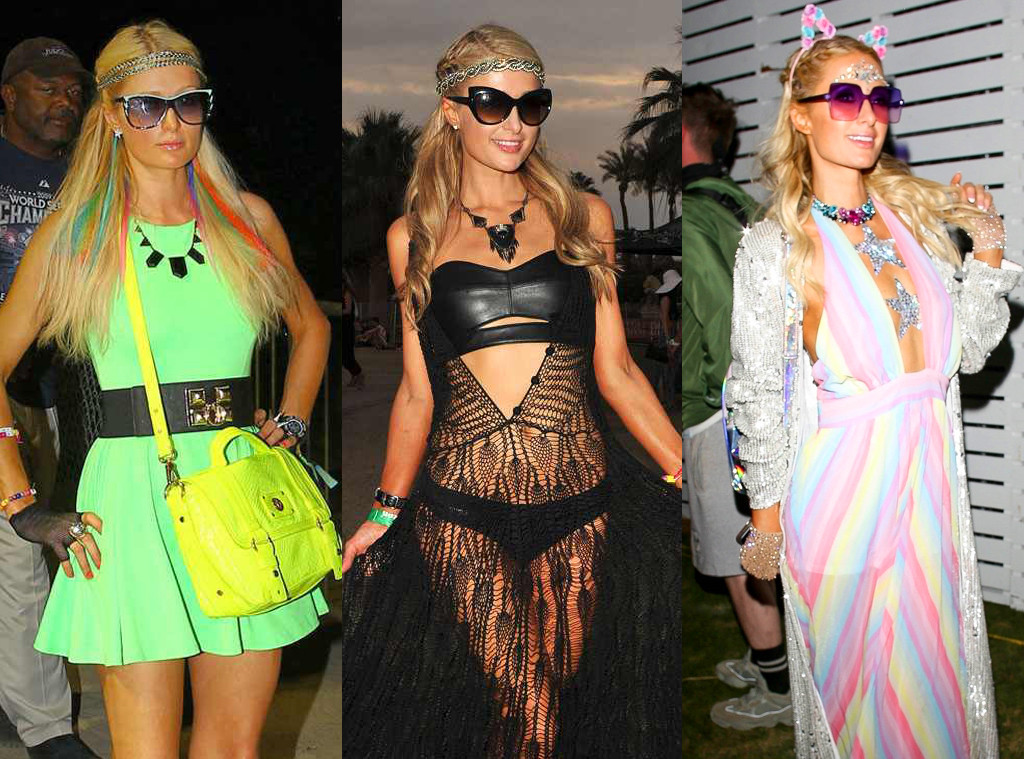 No matter what vibe the star is going for, you can count on Paris to complete her standout looks with sunglasses and a form of cat ears. As for everything else, the DJ lets her fashion sense soar with prints, shades and silhouettes. One day, she's rocking colourful stripes the next, it's sheer, black lace with cutouts and a daring plunge. 
Whatever look it is, it's always 100 per cent Paris and that's hot. Take a walk down Coachella memory lane with Hilton in E!'s gallery below.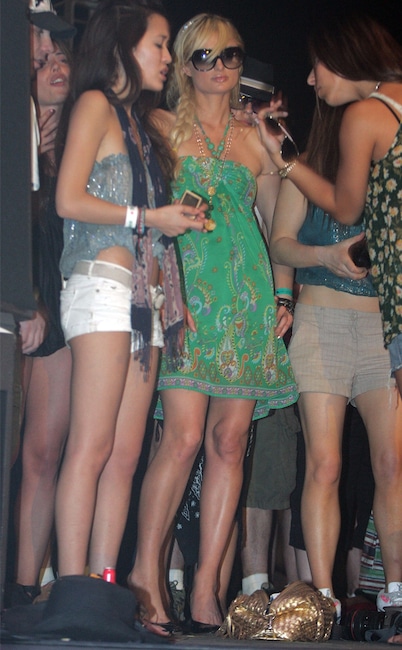 2007
More than a decade ago, the socialite showed up to Coachella in a colourful paisley sundress, complete with shades.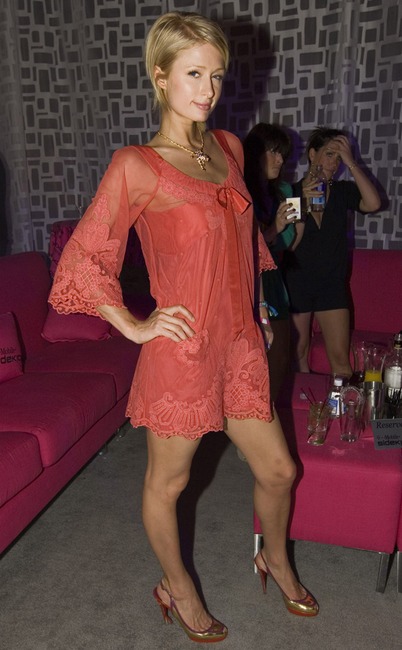 2008
A year later, she opted for coral at a Coachella party for the T-Mobile Sidekick.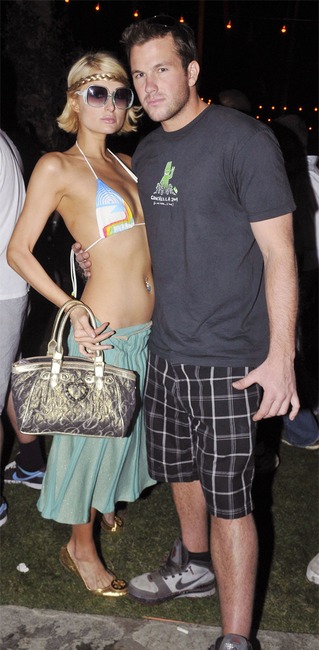 2009
One year, the star stepped out with ex-boyfriend Doug Reinhardt, sporting a bikini top and skirt combo with her signature shades.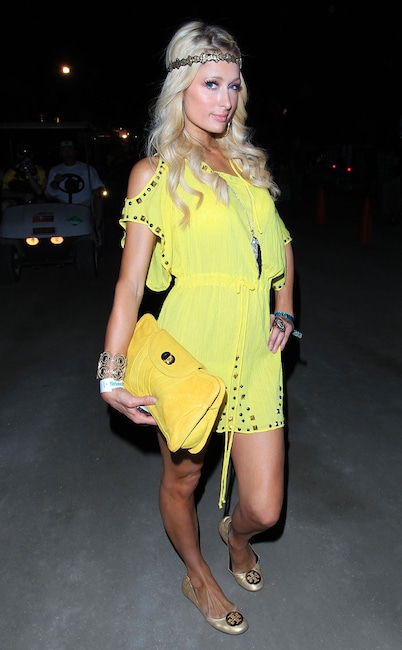 2010
The world-famous DJ was not so mellow in yellow back in 2010,  donning a vibrant lemon-coloured frock as she posed for the cameras.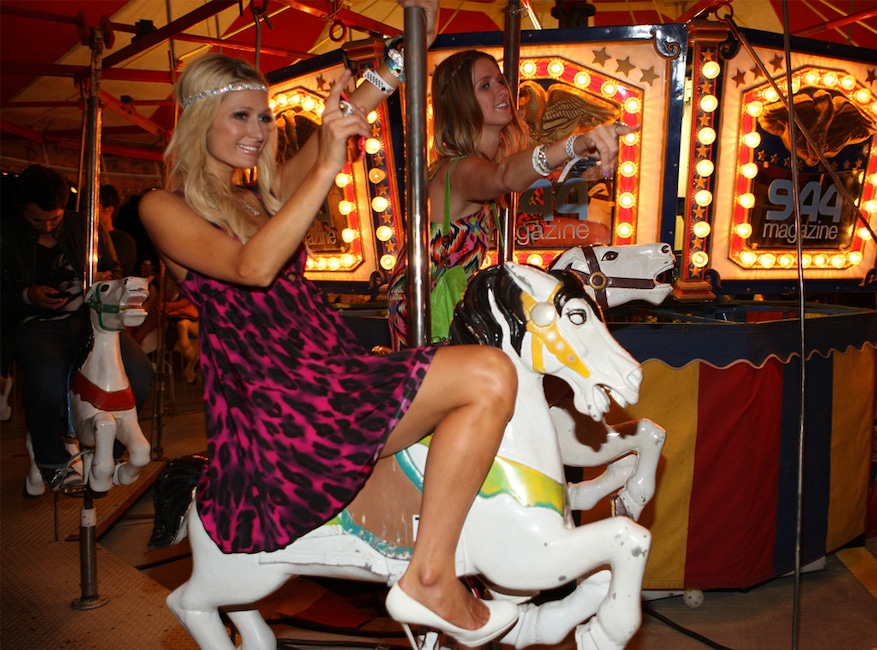 2010
Another night, the star switched it up in pink animal print alongside sister Nicky Hilton.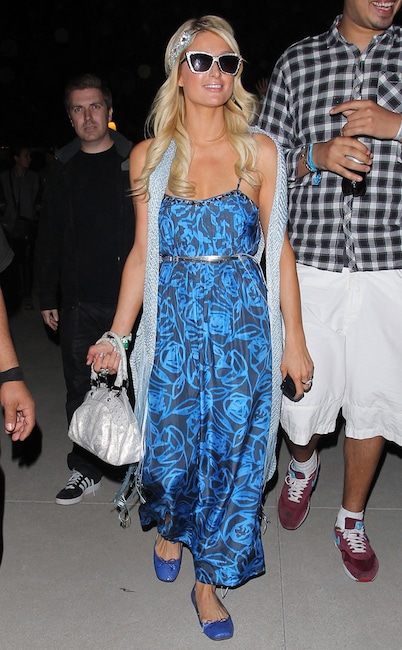 2011
It was a blue and silver theme for the heiress in 2011, once again rocking sunglasses to complete the look.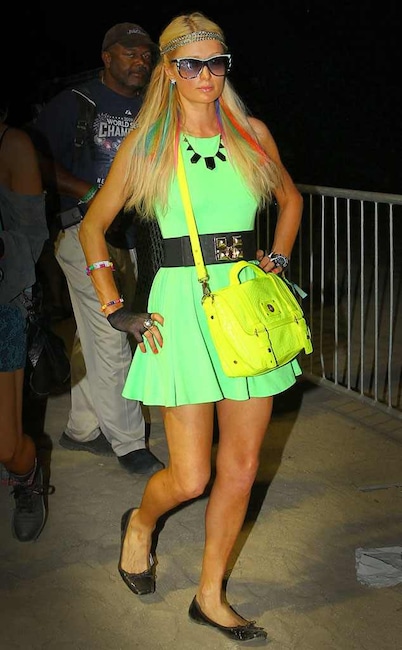 2012
There was no missing Paris in this lime green look.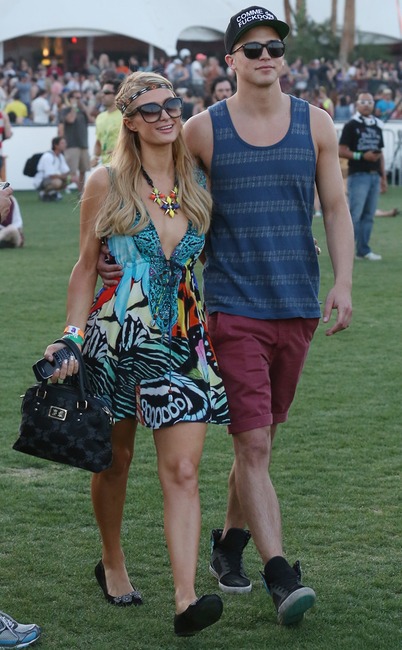 2013
For 2013, Paris came with plenty of print and then-beau River Viiperi.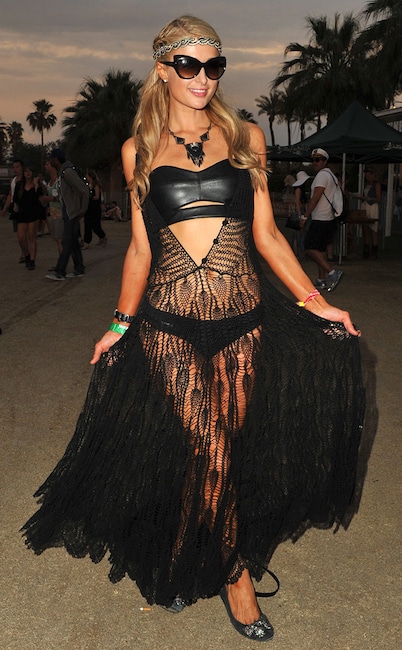 2014
The following year, Hilton was strutting solo in a bold leather and lace sheer ensemble. 
2014
Hilton gave us blue bohemian vibes in 2014 when she opted for a floor-length dress and matching flower headband.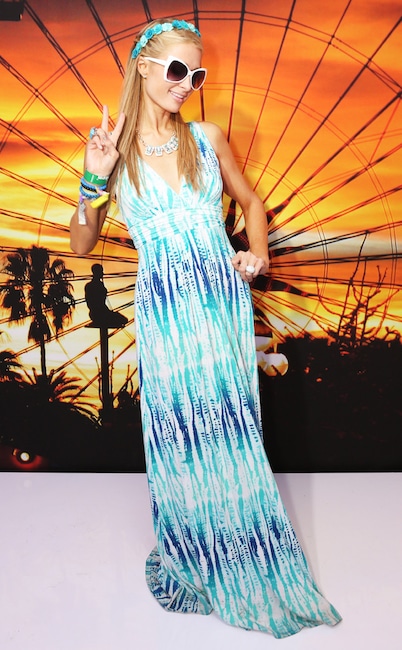 2015
What was the best accessory for Paris to pair with her statement-making skirt? A pair of matching cat ears, of course.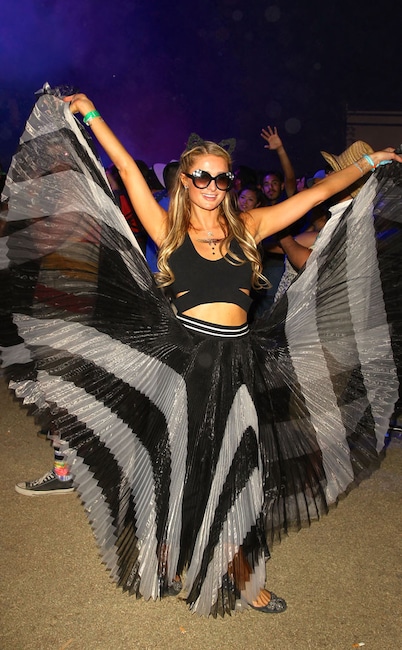 2015
The Hilton sisters were feeling the prints this year in shades of blue. 
2015
Another day, the siblings coordinated in all-white looks and cat-eye sunglasses.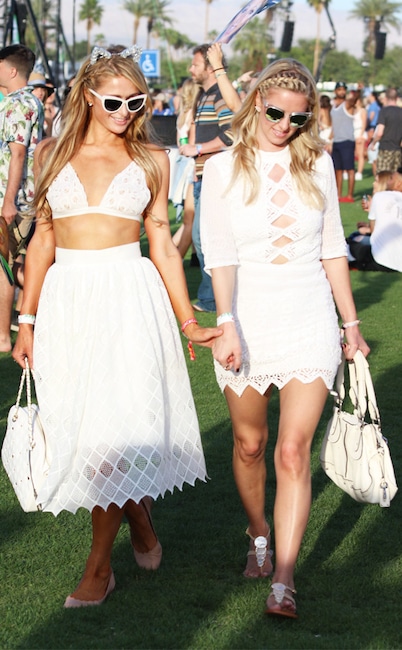 2016
Hilton took Coachella style to a new level with this black lace look.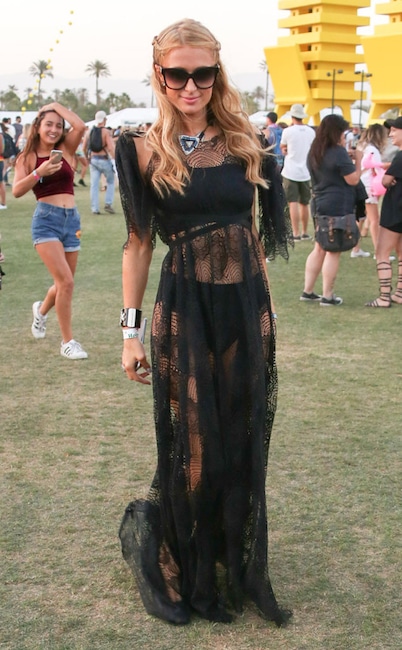 2017
The star wasn't afraid to rock this bold strappy and sheer outfit in 2017.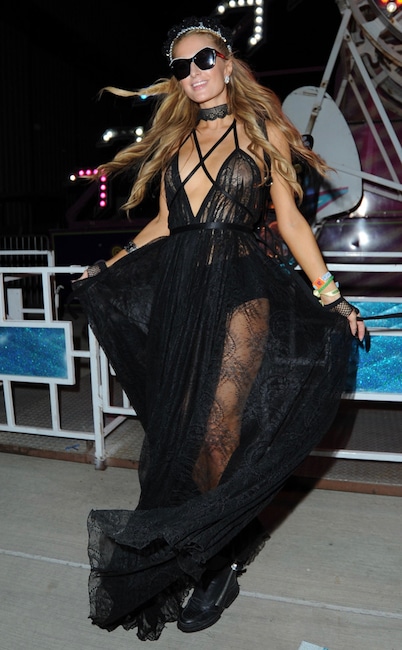 2017
Hand in hand with ex-fiancé Chris Zylka, the star made a sartorial splash in a colourful, striped dress and matching cat ears.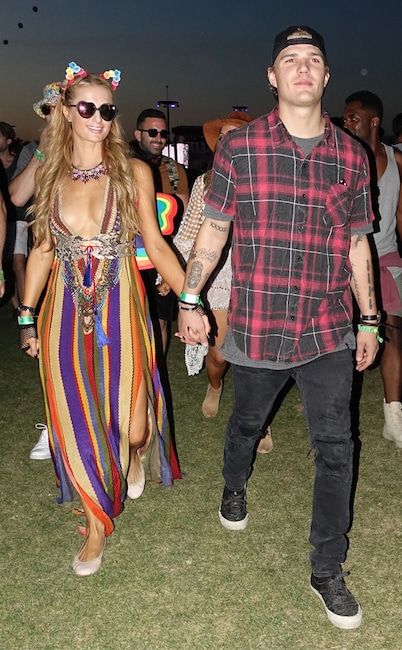 2019
A fan of a black outfit, the star channelled looks of years past with a sheer, plunging lace dress.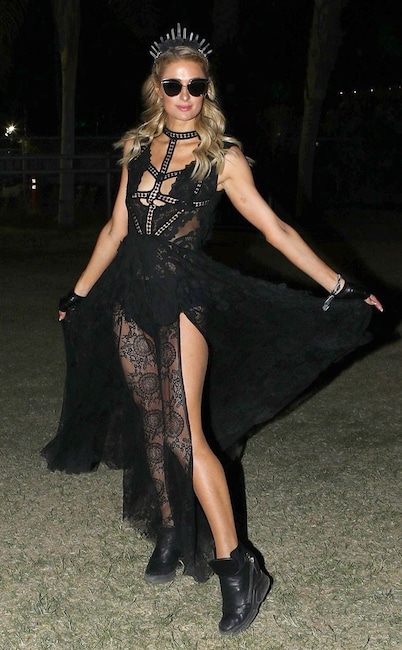 2019
The socialite switched to pastels, complete with matching flower cat ears, another Coachella wardrobe staple.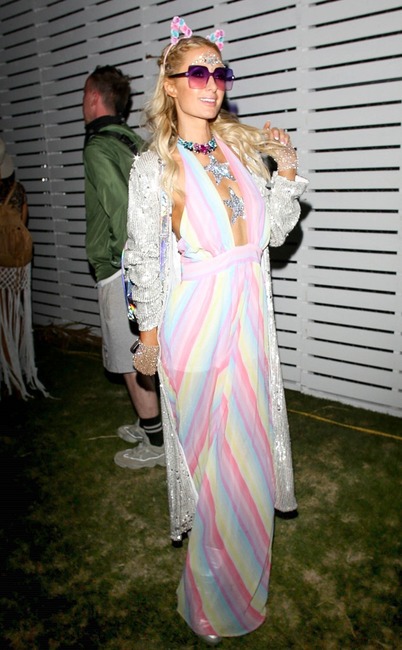 2019
It might have been Coachella, but Paris looked like she was ready for a fabulous club as she posed like a rock star.