A Kalenjin Council of elders Nakuru branch has warned deputy president William Ruto and his allies against undermining a constitutional aligned institutions.
The elders said that Ruto should be the one empowering them rather tjan attacking them especially the office of the DCI.
The elders, led by county Peace Coordinator Andrew Yatich, told the DP that attacks on Mr Kenyatta's appointees were tantamount to attacking the presidency he serves.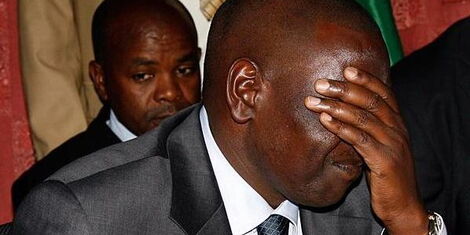 "The country is searching for a cure for three key things – corruption, the Building Bridges Initiative aimed at uniting the country as it will bring everybody on board and constitutional changes to make sure there is equitable sharing of resources. It is therefore bad for the DP to launch attacks on the DCI at this time,"  he said.
Over the weekend,the Ruto allies led by sente majority leader Kipchumba Morkomen warned DCI boss George KInoti against investigation corruption activities.
The elders said that the DP attack on Mr Kinoti was in bad faith.
"Deputy President William Ruto's attack on DCI boss George Kinoti was in bad faith," the Kalenjin Council of Elders in Nakuru County has said.
The Council has further warned deputy president against attacking president Uhuru Kenyatta on his fight against corruption.
"The DP should stop criticizing president Uhuru appointee as doing so will acts like intimidations,"the Council stated.
Yesterday DCI office said that the DP should allow them to investigate the corruption matters noting that they have a constitutional rights.
Mr Morkomen and Sudi had said that Uhuru should appoint mr Kinoti to the EACC office that is mandated to investigate Kenyans.
In a tweeter post the DCI office stated that they have a constitutional right to investigate and prosecute anyone caught stealing or destroying public property.