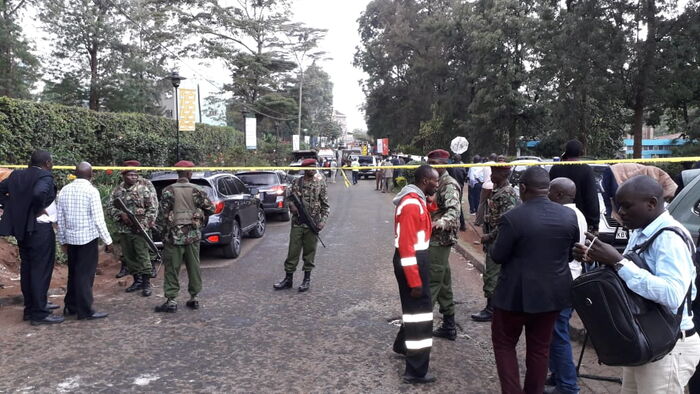 In unfortunate event a terror attack  has been staged at 14 Riverside Drive near the dusitD2 hotel in Nairobi on Tuesday where police are still battling the armed assailants
Suspected terrorists allegedly arrived at dusitD2 Hotel on Riverside Drive, Nairobi in a silver 5-seater hatchback and walk toward security officers at the hotel's gate, where they threw an explosive at the security agents.
An  eyewitness, believed to be a hawker operating opposite the Dusit D2 establishment revealed that one of the suspects responsible for the Tuesday attack had visited the building at least two times before the incident.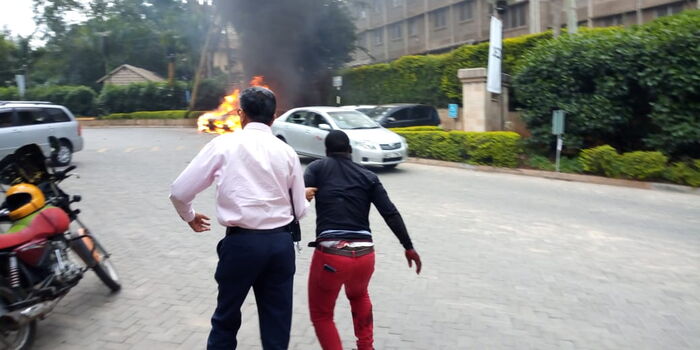 In a video, one witness claimed that the first time he spotted the vehicle, the driver asked him to watch over it.
He alleged that after the alleged attacker parked the car at the side park, he then got into Dusit D2 and ordered a cup of coffee.
Once he left the restaurant, the eyewitness claimed that he gave him Kshs 100 for watching over the vehicle and left.
He then reported that the second time he saw the alleged suspect who arrived in the same tinted car, he talked to no one.
The eyewitness claimed that Tuesday was the third time he saw the vehicle at the Dusit D2 establishment which was attacked by unknown assailants
He also claimed that they witnessed an explosion after the tinted car, which he claimed he had seen two times before at the establishment, arrived.
When asked to describe the alleged attacker who he confirmed was the driver, he placed him as a heavily-built man.