The 2019-20 budget will be a difficult one for Treasury Cabinet Secretary Henry Rotich.
As Kenyans approach the end of the financial year 2018-2019, Treasury Cabinet Secretary Henry Rotich will leave his 14th floor office at the Treasury, take a reserved lift together with a retinue of aides for the short walk to Parliament buildings. There he will pose for the media and display the briefcase that contains his proposals to fund the ambitious  2019/20 fiscal year.
The National Treasury Cabinet Secretary Henry Rotich is set to retain his expansionist policy through the next financial year, enlarging the budget by 7.6 per cent to Sh2.7 trillion .
But where is 'Wanjiku' in this and what does it all mean for her?
Ultimately, all debate narrows down to three main questions: What is the relationship between Government spending programmes and the lives of ordinary people? How do the consumption habits of microeconomic spending units (individuals, households and firms) relate to the macroeconomic environment? Who benefits and who pays?
Mr Rotich' spending plans seek to pump Sh1.66 trillion into recurrent expenditure between July 2019 and June 2020, while development projects get Sh670.8 billion.
Counties' expenditure is projected at Sh371.6 billion, with an additional Sh5 billion going toward the contingency fund.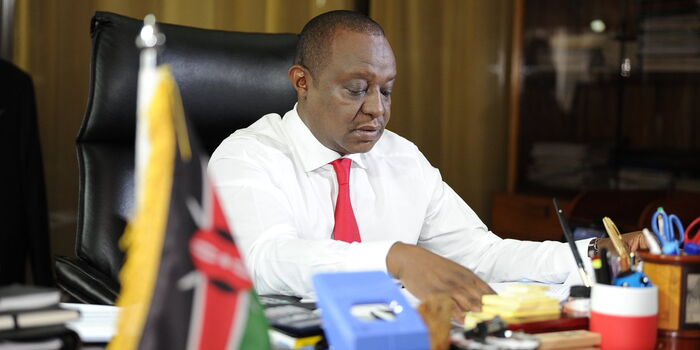 The higher budgetary expenditure is, however, likely to result in increased taxation for Kenyans given that the government is still under pressure to cut the rising amount of public debt. The state may also achieve the higher revenue target by widening the tax net and sealing loopholes.
The Treasury says, in the draft 2019 Budget Policy Statement, that it expects total revenue to rise 13.6 per cent to Sh2.08 trillion in the coming fiscal year, which will reduce the budget deficit year-on-year from Sh635.5 billion (6.3 per cent of gross domestic product (GDP) to Sh572.2 billion (five per cent of GDP).
"To finance the fiscal deficit in the fiscal year 2019/20, domestic borrowing is projected at Sh271.4 billion, foreign financing at Sh306.5 billion and other domestic financing at Sh5.7 billion," said the Treasury in the budget statement.
"Revenue performance will be underpinned by ongoing reforms in tax policy and revenue administration."
The higher budget target will put pressure on the Kenya Revenue Authority to improve its revenue collection in the face of tough economic times.
Again i ask, is 'Wanjiku' in this and what does it all mean for her?