Deputy President William Ruto is still the man to beat come 2022 if the latest polls by Radio Africa Group are anything to go by. According to the poll, 41 per cent said Ruto is not fit to be Kenya's fifth president.
Five per cent of respondents said they were undecided on whether Ruto is suitable or not.
The recent polls show that William Ruto's chances of becoming the next president remain high despite opposition from sections of political leaders.
The report is likely to be music to the ears of the DP who is facing rebellion from within his Jubilee Party and perceived lack of enthusiasm for his candidacy by President Kenyatta.
Ex-Jubilee vice chairman David Murathe, a close Uhuru ally, has openly stated that Ruto is not qualified to occupy State House.
"He [Ruto] is in court with his lawyer Ahmednassir fighting the issue of the Weston [Hotel], for example. There are allegations of his involvement in the maize scandal where farmers in Rift Valley were shortchanged…and every time these things are pointing fingers at an individual as either the godfather or getting involved," Murathe claimed on Sunday after his dramatic resignation.
According to the poll, 53 per cent of respondents said Uhuru will not renege on his public pledge to support Ruto in 2022.
Thirty-eight per cent of the respondents, however, predicted the President would not back Ruto's State House bid.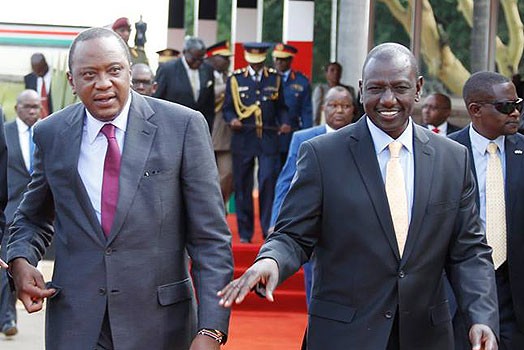 Nine per cent said they are not sure which scenario will play out.
Despite the turmoil in the ruling party, Jubilee remains the most popular political outfit.
Forty-four per cent of respondents said they feel closest to Jubilee.
In a possible warning signal to ODM, the poll suggests that the popularity of the once-dominant political outfit could be diminishing.
Only 15 per cent of the respondent said they feel closest to ODM.
However, only one per cent aid they support Musalia Mudavadi's ANC , Moses Wetang'ula's Ford Kenya and Ekuro Aukot's Third Way Alliance.