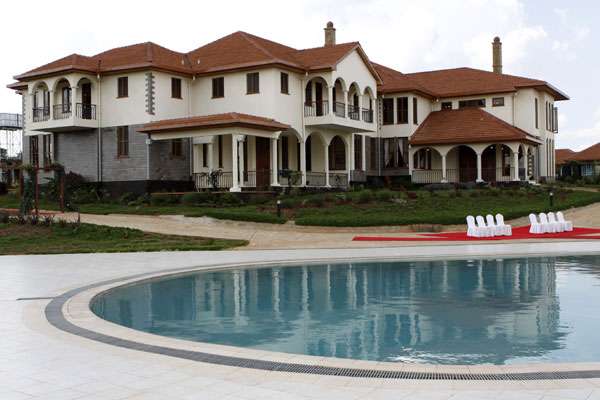 The question after reading this article is , Is Ruto a hustler?
Deputy President-elect William Ruto is  the first occupant of the sh 450 million deputy president residence in Karen, Nairobi. This was after vice president Kalonzo Musyoka failed to move in, following its completion 7 months ago.
The house is built on a 10 acre piece of land, and comes with among others, an office block, garage, swimming pool, gazebo, generator house, staff residence and a comptroller's unit. After all the controversies surrounding its construction, its final cost was Sh 453 million.
Ruto took charge after being sworn is as the vice president . His family home is barely 2 kilometre away.
Here are photos of the Deputy President Residence.
Deputy President William Ruto is reportedly also said to have  acquired an Airbus Helicopter H145, which is most expensive chopper in Kenya.
The chopper was said to have undergoine customization and  delivered in Kenya in 2018.
If true, Ruto will be the only private individual with such a chopper that can operate even at night. Only the KDF and the Kenya Police have choppers with night vision capabilities. A new chopper costs about Ksh871 million but the cost can reach Ksh 1 billion with customisations and branding.
Politicians own more than half of the 50 helicopters registered with the Kenya Civil Aviation Authority and the number continues to rise. Most of them were bought ahead of the 2013 and 2017 General Elections.
Ruto already owns three helicopters, one of which he leased to Uasin Gishu gubernatorial candidate Zedekiah Bundotich Kiprop (Buzeki) ahead of last year's elections. President Uhuru Kenyatta has five. He leased a Y5 JNM to Kirinyaga Women Representative Purity Ngirichi last year. NASA leader Raila Odinga has a Eurocopter.